Deep Dive
California's drought is redesigning the energy landscape
As California's most severe drought on record continues unabated, utilities and regulators are forced to find alternative resources of power.
California is in the midst of its third year of extreme temperatures and severe drought, creating a serious water shortage across the state and bouts of wildfires that plague the population and essential services, including energy. The state governor, Jerry Brown, proclaimed a State of Emergency in January, and asked all Californians to bring down their water usage by 20%. As of the beginning of July, 21.03% of the state was in "severe drought," 42.51% in "extreme drought," and 36.46% in "exceptional drought" conditions, according to the state's drought monitoring service—the harshest on record.
This was bad news once again for the state's utilities. Heat can cause power lines to fail, as they did in June in Contra Costa County, when a power line failure ended up causing a brief bush fire and left 2,400 Pacific Gas & Electric customers without power for about two hours. Further, hydroelectric generation accounts for approximately 12% of the state's net generation, making it the largest renewable resource. But without a steady and reliable supply of water, hydroelectric generation may not function to full capacity.
According to the grid operator's Summer Assessment for 2014, released in early May, reservoir water storage was at 63% of average levels. The report predicted between 1,370 MW to 1,669 MW of in-state hydroelectric generation would be unavailable over the summer months. With peak demand projected to hit 47,351 MW, up 646 MW from the 2013 peak, the California Independent System Operator assured utility users that it had enough reserve power to meet a 24% jump in peak demand should "normal conditions" hold, but this "could fall to about 14% during extreme conditions," which is still acceptable. Power outages only become a risk if the margin goes below 5%.
To try and preserve California's hydroelectricity supply, utilities like Pacific Gas & Electric 
"strategically" generated less electricity from hydro earlier in the year and limited the amount of water they released from their reservoirs so as to have a good base supply for the demanding summer months. However, the utility warned in a statement that, "as with the rest of California, how much water is available to PG&E depends on the weather." Debbie Powell, director of PG&E power generation, said that throughout the year, the utility has been "conserving water in our reservoirs so clean, affordable hydropower will be available during peak demand periods of summer." But hydroelectricity is not the only source of generation at risk.
In a letter to the state's Water Resources Control Board, which is currently considering extra curtailments on water usage throughout the state, the California Energy Commission, the Public Utilities Commission and CAISO warned earlier this month that natural gas plants too could become unreliable should the water that is needed to cool them stop flowing. An estimated 1,150 MW of natural gas-fueled generation may cease if the water supply gets too low, according to CAISO. This is despite an earlier appeal to energy consumers to curtail demand during the middle of the day to combat natural gas shortages in the south of the state due to natural gas generation issues over the winter in the rest of the U.S. That leaves the south particularly vulnerable to any power shortage that does occur, as the area is still struggling to account for the power that was lost by the closure of the San Onofre nuclear plant in 2012. To try and get around the issue, the state Energy Commission is trying to amend utility permits to allow for alternative cooling strategies in the plants that are still running.
Public Utilities Commission spokesperson Terrie Prosper said that "while the CPUC does not anticipate any energy reliability issues due to the drought, we are closely monitoring the situation and coordinating with the utilities" to help mitigate any issues that do occur. "Utilities will need to find alternative energy sources to meet the needs that hydroelectricity previously met," Prosper added. They will also need to make up for the deficit of natural gas.
Adam Browning, of solar advocacy group Vote Solar, said that as hydro and gas-fired power has been limited, the state's remaining renewable energy portfolio is looking to pick up the slack. On June 1, the Energy Information Advisory (EIA) reported a new record in solar generation output of 4,767 MW in May, although the figure is possibly higher by 10 to 20%, according to the EIA. Nonetheless, that equated to 14% of the state's total energy usage at that time, a dramatic increase from the 6% peak during the same period in 2013. Over the month, solar averaged 6% of the state's total used power, triple the average output for May 2013.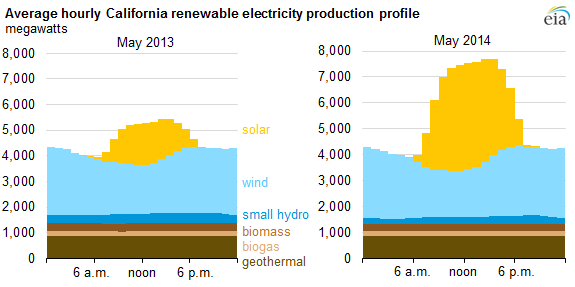 "We are setting solar generation records in the state it seems almost every other day," said Browning. "And that's just wholesale—we also have robust self-generation," or rooftop solar, throughout the state. Solar is growing at such a pace, in fact, that CAISO has said they will not be releasing day-to-day updates on the amount of solar on the grid, and will instead do so on a periodic basis—just as they do for the more established, mainstream electricity sources.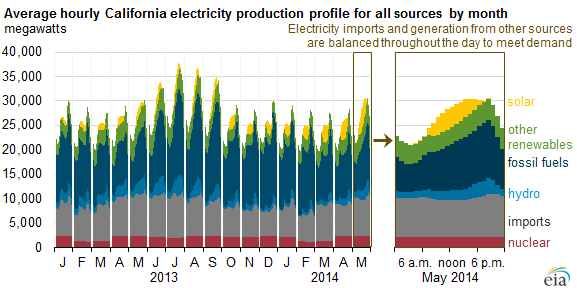 In 2013, 2,145 MW of utility-scale solar installations came online in the state, which meant the utility accounted for three quarters of the entire U.S. utility-scale solar capacity. A further 1,728 MW of new utility-scale solar installations are scheduled to come online or else begin construction through 2014 according to the EIA. A further 700 MW of rooftop solar generation was added to the grid in the past year.
That number, said Browning, is set to grow. California has a 33% total capacity from renewable energy target and set up a comprehensive incentive program to get the market for privately owned solar generation up to speed. A recent report from Environment California's Research and Policy Center estimated that "if progress continues at the same rate it has over the past four years," residential prices will reach $5.25 per watt of installed solar capacity without rebates in mid-2014. That will place the cost of installing solar on a par with just getting electricity from the grid.
Bernadette Del Chiaro, director of Clean Energy and Global Warming Programs Environment California said the report "assumes [utility] rebates are phased out" to help cover the cost of solar for customers, "but that we still have net metering."
According to Browning, the phasing out of rebate programs does not appear to have lessened demand for rooftop solar installation. Utilities such as PG&E offered financial incentives to customers seeking to install solar generation in their homes, but these programs are now fully subscribed.
"That has been a tremendous success story," he said. "California created a market responsive program to jumpstart the market, where there would be declining incentives as the market grew. Now, at two of three major utilities, those incentives are gone and the market is still thriving none-the-less."
Looking ahead, there could be a silver lining for the utilities industry in the form of solar generation, both in utility scale form and in terms of distributed generation, where a critical mass of rooftop solar installations provide a significant energy resource for the grid as a whole. Other states plagued by energy resource issues, such as New York, have already begun a campaign to bring more distributed generation on to the grid as a source of generation. Barring legislative hurdles, said Browning, he believes California is on track to pursue this too.
"Solar provides a wonderful solution" to the state's generation problems, he said, "and that is why we are seeing tremendous growth across the board. People looking to solar to fix rising utility bills by generating themselves, while regulators and utilities are looking for solar to provide distributed generation in areas where they need it."
Recommended Reading: