Dive Brief:
A 10-year extension of the solar investment tax credit (ITC) would lead to $87 billion of private sector investment in the sector by 2030, the Solar Energy Industries Association said in a report released Tuesday.
The ITC has been credited with adding $140 billion in private sector investment and growing solar deployment since its implementation in 2006, but the 30% credit is scheduled to decline starting in 2020 until reaching a permanent 10% in 2022. The credit for residential solar programs would phase out entirely in 2022.
SEIA and Wood Mackenzie Power & Renewables estimate an extension would generate 82 GW more of solar deployment over the next decade, 63 GW of which would come from the utility-scale segment. "Utility solar would become the lowest cost generation resource in many markets," according to the report.
Dive Insight:
The declining tax credit would lead to 227 GW of total solar installations by 2030, but an extension would lead to more than 308 GW, a nearly 82 GW difference.
"That's more than we have online today," SEIA president Abigail Ross Hopper told the crowd at Solar Power International on Monday.
SEIA asked conference attendees to reach out to members of Congress and ask for an ITC extension in a social media campaign to "Defend the ITC."
While the industry group supports a slew of clean energy credits, Hopper told reporters the solar ITC extension is the focus for the immediate future because of the political consensus around it. Other bills, such as a technology agnostic clean energy tax credit, would not be as feasible for passage by the end of the year, she said.
Wood Mackenzie forecasts 36% growth in installed solar from 2020-2030 through an ITC extension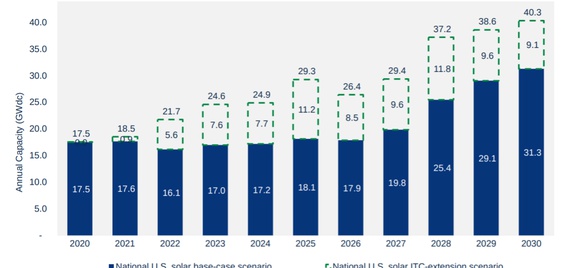 Extending the ITC would increase competitiveness for utility-scale solar in established and emerging markets, enabling the resource to "gain ground against other generation resources based on price competitiveness," Colin Smith, senior analyst with Wood Mackenzie, said in a statement.
An extension would also hasten utility coal retirements, increase solar-plus-storage adoption and increase corporate procurement of large-scale solar, the report said.