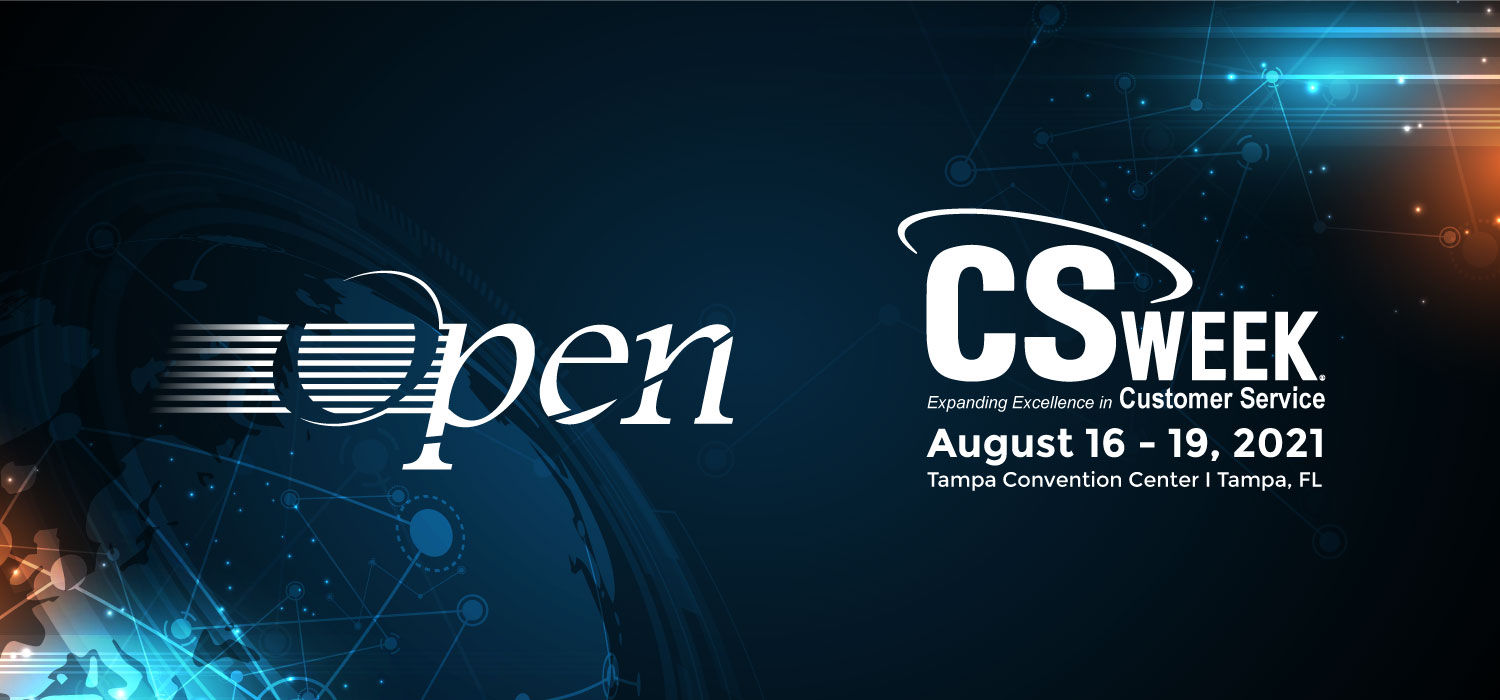 MIAMI —
The 45th CS Week Conference will take place August 16-19th in Tampa, FL where utility companies, leading IT providers, and other industry players will come together to discuss the future of customer service. During this conference, Open International will tackle the ideas of customer journeys and digitalization strategies, turning utilities into successful customer experience-focused organizations.
August 2021. This year's CS Week marks an exciting time for the industry, as utility companies and software vendors return to the most important event in the sector in person. Throughout the event, Open will demonstrate its modern solution, Open Smartflex, which leverages utilities' innovation capabilities by combining artificial intelligence (AI) and cloud cutting-edge technologies. This cognitive cloud CIS solution also turns traditional business processes into rich customer journeys to offer a top-of-the-line customer experience (CX).
Open will be located at conference room #34 on the 4th floor of the Tampa Convention Center, showing its disruptive cloud CIS solution which addresses the current needs of the market and prepares utilities for the future. They will also discuss Open Smartflex's AI capabilities and how they can be applied to customer experience improvement. About customer experience, US President, Hernando Parrott had this to say: "Developing proactive business initiatives with a focus on the key operational journeys is decisive to create an outstanding experience. Open Smartflex helps companies embrace every essential component of a CX organization by supporting a digitalization strategy that combines the power of a leading-edge solution and artificial intelligence, with the capability of continuous evolution as an innovation leverage".
Open believes in enabling utilities to deliver the best CX by supporting a digitalization strategy that combines the power of a flexible, cognitive, and holistic solution. The convention brings together software vendors, industry experts, and major utilities to create a truly unique opportunity for in-depth discussion about the technology that shapes the future of customer service.
In this respect, Parrott added, "The new mantra is to provide the best possible experience to meet customer and end-user expectations. Open's modern cloud solution provides unparalleled flexibility to handle new products and services and manages different digital interaction channels to fit every stage of the journey according to the preferences of each customer and the operation of utilities."
CS Week's conference sessions will provide its attendees with the opportunity to learn about how technology is transforming customer service models and what criteria utilities should have in mind when it comes to developing innovative strategies for the digital reinvention of customer experience.
Regarding Open's involvement in CS Week 2021, Jesus Sanchez, Chief Marketing Officer of Open, commented, "We are very excited to be returning to CS Week this year to talk about the rising trends in the utility industry and customer service. As always, we are pleased to welcome all utilities to join us in a conversation about customer experience, cloud solutions, new digital business models, and how the industry is continuing to evolve in this new decade."
Media Contacts:
Maria Corredor, US Marketing Communications Specialist, Open International [email protected]
Maria del Mar Caldas, Advertising, Marketing and Public Relations Leader, Open International [email protected]
###
About
Since its inception in 1987, Open International has provided technology that helps Telecommunications and Utility service providers meet their business goals and implement innovative business strategies. Open's customer service and billing software solution has allowed its clients to stay on top of their industry's biggest challenges by giving them the agility to act on current-day and future problems. We believe that through truly great technology, we can help simplify the way service providers operate, create value, and increase customer satisfaction. With these core values, we created our single, state-of-the-art, comprehensive product: Open Smartflex is a holistic, multi-service, preconfigured software solution that provides a powerful billing engine, a robust customer care suite, an agile mobile workforce management system, a smart metering engine and hundreds of other functionalities to satisfy our clients' core needs.