September 22, 2021
Press Contacts
Joseph Xavier
Nuvation Energy
(519) 594-0072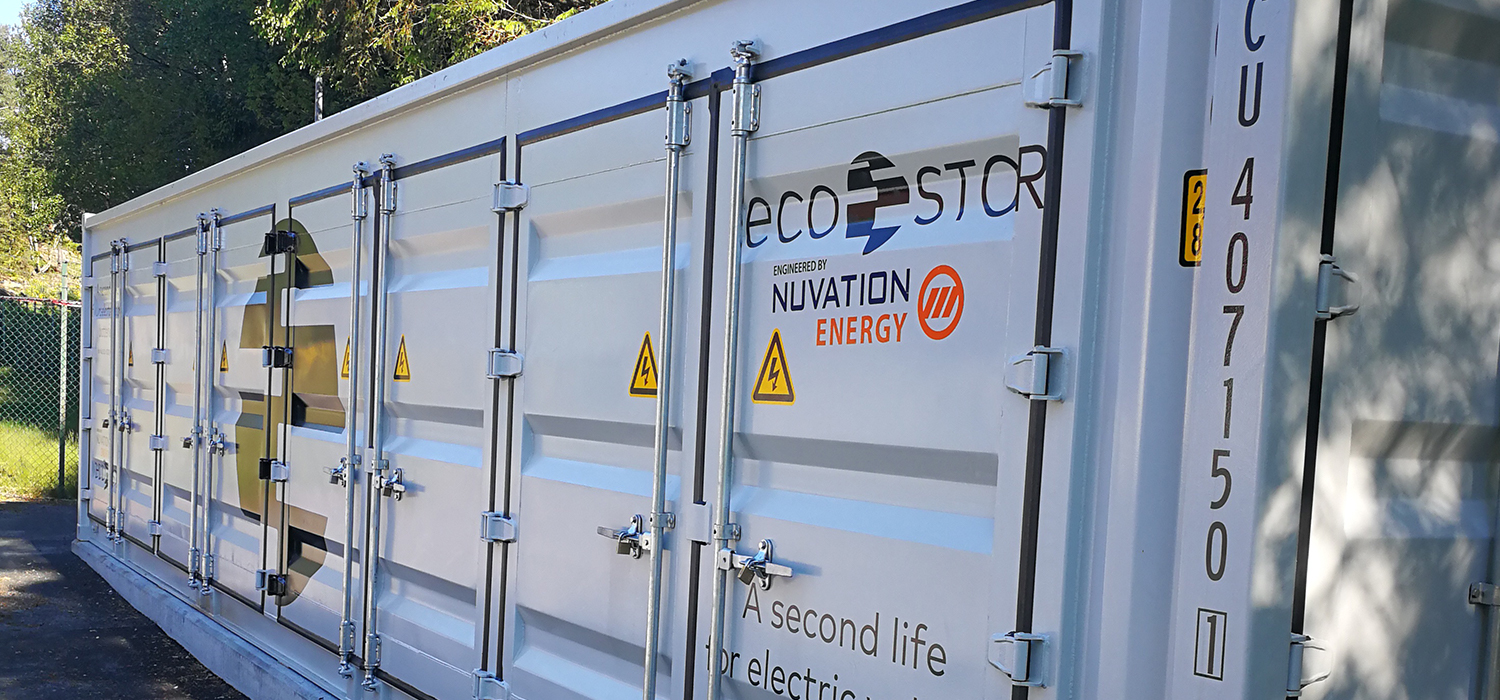 SUNNYVALE, Calif. —
ECO STOR has deployed three projects incorporating used electric vehicle battery packs, supplied by Nissan, into large-scale energy storage systems. These Second Life systems have been deployed in Norway to provide demand charge management and to support the utility grid. Nuvation Energy was engaged to deliver battery management systems, energy controllers, and system engineering. ECO STOR provided engineering procurement and construction (EPC) and provisioned the systems at their respective sites.
September 22, 2021, Sunnyvale, California. Energy storage solution providers Nuvation Energy and ECO STOR collaborated in the development of three systems for deployment in Norway. Each project advances the adoption of second life batteries in large-scale stationary energy storage by utilizing used Nissan Leaf battery packs. Two 50 kW / 150 kWh systems provide demand charge management to an office building and a school respectively. One 1 MW / 700 kWh containerized energy storage system provides transmission and distribution upgrade deferral services at a utility grid substation.
Nuvation Energy, a US and Canada-based company, provided battery management systems, energy controllers, and energy storage system design. Norway-based ECO STOR constructed and commissioned the systems.
ECO STOR was established in 2018 to commercialise intellectual property and knowledge gained from Second Life energy storage development that had begun in 2013. Since then the company has expanded its mandate to include the implementation of a range of energy storage solutions.
"There are millions of electric vehicles on the road today, and the future growth of the EV industry is assured," said Trygve Burchardt. "Most electric vehicle battery packs are replaced at somewhere between 75%-80% State of Health. They still have plenty of life in them after they can no longer deliver the desired vehicle range on a single charge. These three projects have proven that repurposing used EV packs into Second Life applications is not only feasible, but it can also make sense financially through innovative system design. Nuvation Energy's battery management systems and energy controller were easy to integrate, and their engineering team provided ESS designs that significantly reduced time to market."
"Nuvation Energy began working with Second Life batteries about seven years ago in collaboration with Nissan," said Michael Worry, Nuvation Energy CEO. "The biggest challenge back then was how to cost-effectively repurpose these packs. When ECO STOR approached us for BMS and EMS products they could incorporate into second life energy storage systems, we discovered they had been working on the same problem. We are thrilled to work with them to deploy these energy storage projects and continue to bring these second life solutions to the energy storage market."
Media Inquiries Nuvation Energy
Joseph Xavier, Director of Marketing
###
About
Nuvation Energy provides battery management systems, energy controllers, and engineering services to battery manufacturers and energy storage system developers. Our products and solutions have been designed to utility-grade standards and are continuously evolving to meet the changing needs of the energy storage industry. We are headquartered in Silicon Valley, California, USA, with an Energy Storage Design Center in Waterloo, Ontario, Canada.