Dive Brief:
Depressed natural gas prices sent wholesale power lower for most of last year, but the U.S. Energy Information Administration said the shift was particularly apparently in the early months for 2016.
Prices in the first quarter were 24% lower in California and 64% lower in New England than they had been in 2015. For the year, prices across the country averaged between $20/MWh and $45/MWh, though spikes did occur.
Lower gas prices have put pressure on coal generation, and last year was the first where gas-fired power was the more abundant resource. In the first 10 months of 2016, coal-fired generation was down 12%. Federal officials, however, expect to see coal generation rise slightly this year.
Dive Insight:
Lower natural gas prices kept power in check last year, but the trend could reverse this year as commodity levels tick up. According to the EIA, gas delivered to power generators in the first 10 months of 2016 was $2.78/MMBtu—almost 20% below 2015 levels. The result was clear at power hubs around the country.
Wholesale prices ranged from 24% lower in California to 64% lower in New England in the first three months, and wholesale prices for the remainder of the year trended slightly lower as well.
"In addition to keeping wholesale power prices relatively stable in 2016, the low cost of natural gas contributed to a shift towards increased natural gas-fired electricity generation," EIA pointed out, "largely at the expense of coal-fired generation."
Gas-fired generation between January and October 2016 was 6% higher than the year-before period. Coal-fired generation during the first 10 months of 2016 was down 12%. For all of last year, the EIA estimated gas generated 34% of total annual utility-scale power, compared with a 30% for coal.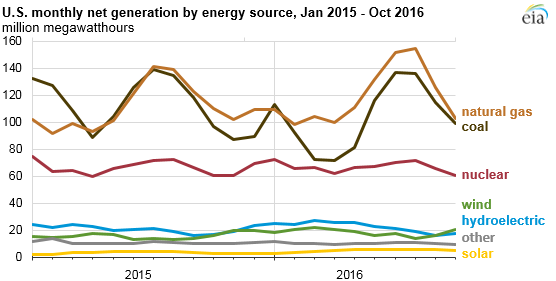 About 24 GW of new utility-scale generation was slated to come online last year, and the EIA said more than 90% was expected to be natural gas, solar, and wind additions. Retired coal units included capacity of about 7 GW last year, "equivalent to 2.5% of existing coal capacity in place at the end of 2015," EIA said.
While the trend away from coal is clear, higher gas prices will mean less fuel switching this winter. Combined with utility coal stocks, EIA expects coal will exceed natural gas' share of generation this winter -- though the trend will not persist. 
This year, EIA anticipates natural gas will produce 33% and coal 31%, but that balance will flip during the coldest months.