Brief
EIA: US CO2 emissions have fallen 10% since 2005
Dive Brief:
The U.S. saw a decline in CO2 emissions from the electric power industry of about 10% from 2005 to 2013. However, the last year has seen an uptick in CO2 emissions, 2% above 2012 levels. 
The Northeast region performed best, with a more than 15% reduction from 2005-level CO2 emissions by 2011. The region has the top three lowest CO2 emitting states per capita: New York, Connecticut and Massachusetts. It also has two of the top five states with the most clean power resources: Vermont and New Hampshire. 
On the individual state level, emissions varied widely. Nevada experienced the largest decrease in emissions, a 33% reduction compared to 2005 levels, while Nebraska experienced a 20% increase in emissions during the same period.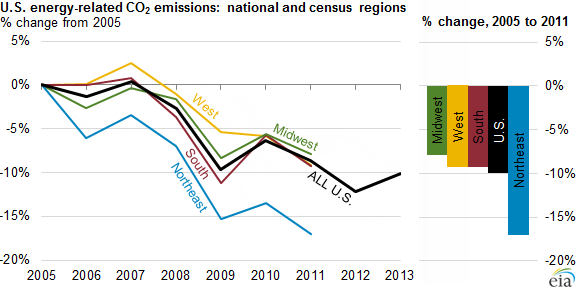 Dive Insight:
The Northeast's performance reflects several regional factors. Increasing population levels in cities and a move to more clean and renewable energy resources accounts for the decrease in emissions. Similarly, in Nevada, coal-fired generation is in decline, while geothermal and solar power is on the rise. 
States, such as Nebraska, that have had to increase their coal-fired generation to meet increasing demand will be in a far worse place to meet the new Environmental Protection Agency carbon emissions standards, which see an achievable 30% reduction in CO2 emissions from existing power sources by 2030 compared to 2005 levels. The EPA has accounted for this variation by tailoring emissions targets for each state to reflect the work already done to reduce carbon emissions as well as "the application of a series of common building blocks to states with widely different starting points in their respective electricity markets," according to the EIA report.