Dive Brief:
Federal Energy Regulatory Commission (FERC) staff issued a draft Environmental Impact Statement (EIS) Friday approving the Mountain Valley Pipeline (MVP) proposed natural gas expansion from Virginia into North Carolina.
The draft environmental analysis determined "limited adverse" effects from the MVP project, named the Southgate natural gas pipeline. FERC staff also issued recommendations to further reduce the impact of the 73-mile project.
Mountain Valley, a joint venture between NextEra Energy, EQT Corporation and others, would meet Dominion Energy's growing natural gas supply needs by connecting the MVP project and another pipeline to two new delivery points in North Carolina. Dominion Energy also sought to bring more natural gas to the region through a 600-mile project, the Atlantic Coast Pipeline (ACP).
Dive Insight:
The Southgate expansion has a proposed capacity of 375 million cubic feet per day, dwarfed by the ACP's proposed 1.5 billion cubic feet per day natural gas capacity.
"We determined that, for most resources, the construction and operation of the project would result in limited adverse environmental impacts," FERC staff wrote. The adverse impacts "would be reduced to less-than-significant levels through implementation of our recommendations and Mountain Valley's proposed avoidances, minimization and mitigation measures."
Also on Friday, the Fourth Circuit Court of Appeals vacated ACP permits issued by the U.S Fish and Wildlife Service. The court ruled the agency had "lost sight of its mandate" to protect the environment as it fast-tracked permitting decisions. FERC and the U.S. Fish and Wildlife Service can address the court's concerns.
More than a month before FERC issued a proposed route and draft EIS for the expansion, the North Carolina Department of Environmental Quality denied a federal water permit for MVP's Southgate project, claiming insufficient information from the developer.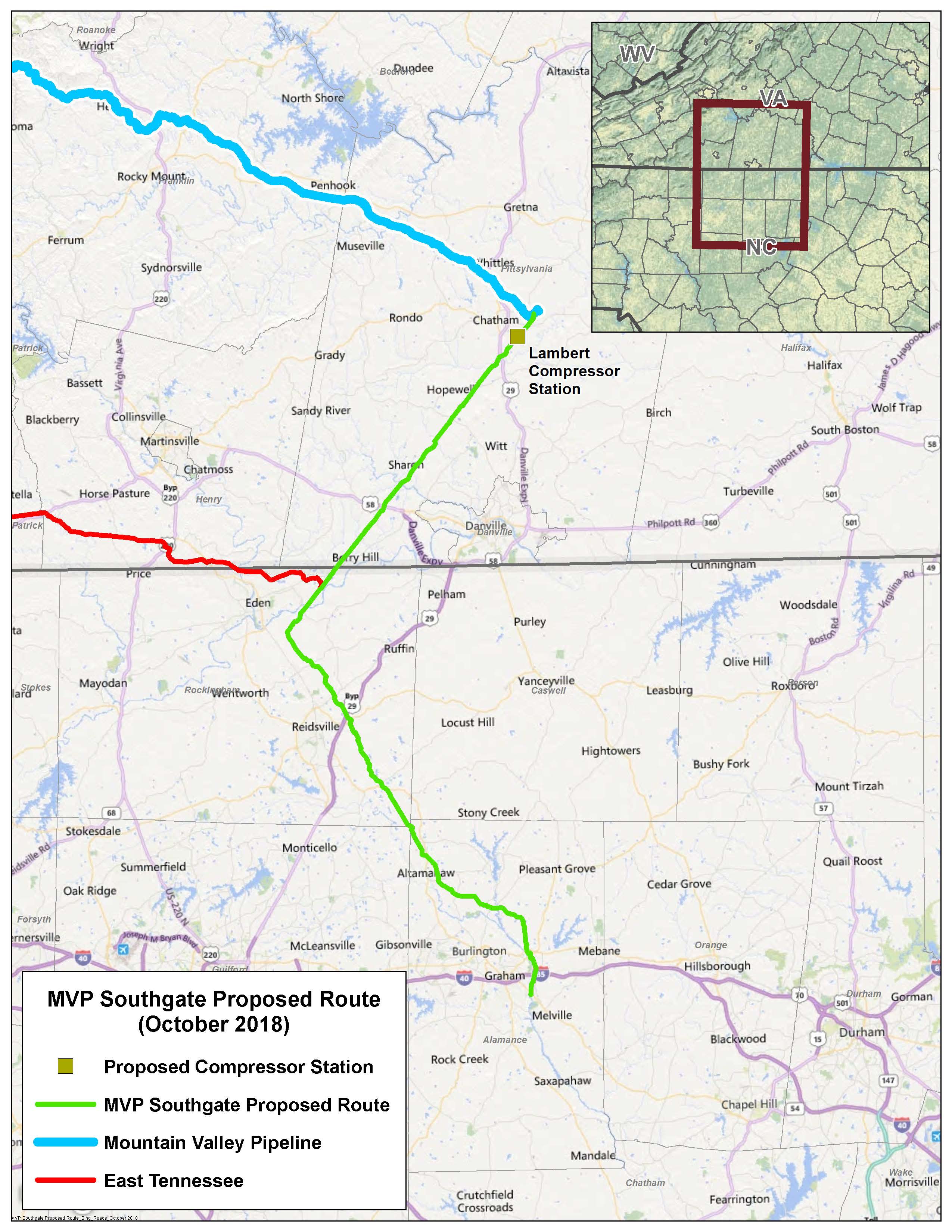 MVP may resubmit its application for the water permit to the state agency, incorporating FERC feedback and information.
Southgate will extend MVP's 303-mile plan, which spans West Virginia and Virginia. Southgate would connect MVP's southern Virginia section to the East Tennessee Natural Gas Transmission pipeline to two new delivery points in North Carolina: Rockingham and Alamance Counties.
FERC will accept comments on the draft EIS through Sept. 16.
CORRECTION: A previous version of this article misidentified the nature of the FERC staff filing. The EIS draft is a preliminary environmental analysis.