Farmville. Candy Crush. Angry Birds. Bidgely HomeBeat?
What if managing energy use was more like playing a game on your smartphone?
Bidgely, a California energy analytics company, earlier this month announced the results of a demand response pilot in Australia, returning some impressive numbers: United Energy, a utility serving an urban population around Melbourne, had reduced load by 30% during peak events last summer using Bidgely's HomeBeat app.
The company turned demand response into a game, leveraging behavioral cues, analytics and financial incentives. The result has been strong customer participation and predictable energy savings.
"To get the kind of results we saw, you really have to engage the consumer to influence their behavior," said Bidgely Vice President of Marketing Leesa Lee. "It's a combination of Silicon Valley-style engineering and big data. If you look at the number of smart meters being deployed globally, we think utilities have a huge asset in the data that's been collected."
Throughout the summer, United Energy could call four three-hour peak events. And by reducing their energy use during those hours, customers saved up to $25 per event. Rewards were tiered, to encourage consistency, and customers can "keep score" of their progress during the event.
"The idea is that it's very gamified," said Lee. HomeBeat shows the customer their usage baseline and sets a goal, displays their progress, and compares it to their neighbors'. From the utility's side, the app is a part of Bidgely's ActionDR offering and allows United Energy to specify how much demand it wants to reduce, over what periods of time, and in what locations. 
"It's flexible," Lee said. "You can target specific homes."
The app is a sleek solution, a program that folds the staid utility industry into a slick consumer offering.
"It's more like something you'd expect to see with a FitBit," said Ray Pustinger, executive committee member at the Peak Load Management Alliance and CEO of Alternative Energy Systems Consulting. 
Pustinger moderated a webinar last week focused on United Energy's demand response program, where it was compared to both the popular fitness device that links a customer's exercise data to their smartphone, as well as Waze, the Google-owned driving app that also incorporates game and social media aspects.
Behind United Energy's app, however, are several years of work that included a struggle to recruit customers and strong initial responses that altered load curves in ways that created new issues.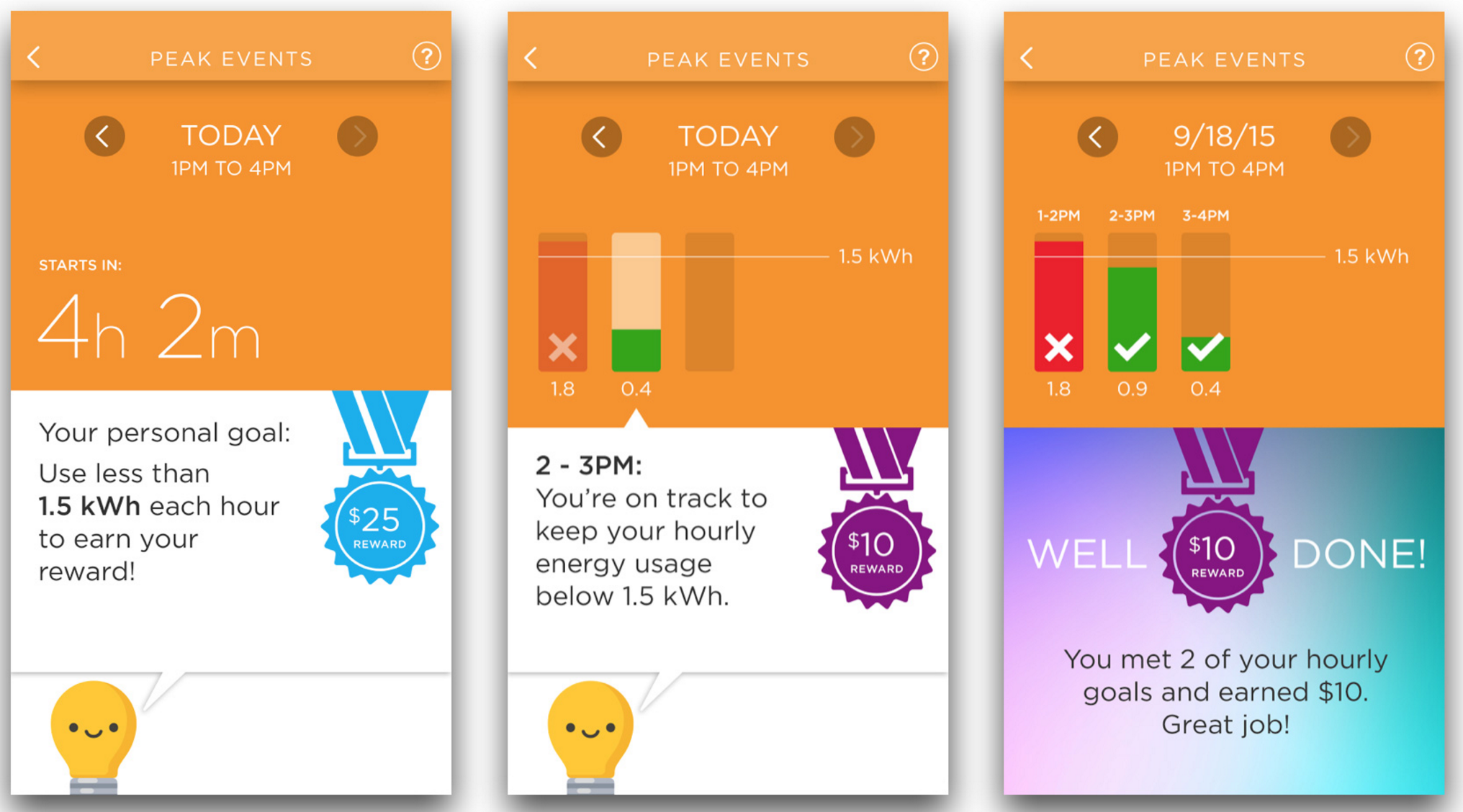 Program design
In the program's third and most recent summer – which in Australia ends in February – United Energy had more than 1,100 participants. But while recruitment is accelerating, finding pilot participants was an initial challenge and the program launched with less than three dozen homes signed up.
"We had hoped to partner with some external parties and get some support from them, but at the last minute that didn't happen," said Sharon Tissai-Krishna, an engineer at United Energy. The first season of the pilot went ahead anyway, with just 30 customers. But those few customers were highly engaged, and the utility saw peak reductions of 40% among them. 
"That gave us the motivation to continue," Tissai-Krishn said. The second summer, the utility's targeted outreach was more successful and the program went off with more than 300 participants. But recruitment wasn't the only issue.
"Customers would make a very enthusiastic effort at the start of the event but tended to not maintain so much of an effort towards the end, turning appliances on, and it gave us a bit of a snap-back effect," said Tissai-Krishn.
"We'd see a huge increase right after the end of an event," said Lawrence Law, a product manager for United Energy. That led the utility to introduce a tiered rewards system that required consistent reductions to get the full reward. That helped smooth the ramp up.
In addition to the new load spike, the program's demographics skewed older. In an urban area, United Energy needed to attract younger households to grow the program. That led to the development of the mobile app, which also allowed the integration of energy efficiency aspects alongside demand response.
"It's another way to get more customers to sign up and helps make sure the app is actually beneficial to the customer," said Law.
Most of the customers involved are using just their smartmeter and no other equipment but their phone and the app. However, some utilize an additional Bidgely device that allows meter data to be transmitted in close to real time and enables instant updates on how their energy use was matching up with goals.
Demand response as a social media?
United Energy will now move the Bidgely DR pilot, which the utility brands to its customers as "UE Smart Energy," into its business-as-usual projections.
"The last summers we've been in trial mode," Tissai-Krishna said. "Now we are looking at how we can incorporate this into business-as-usual, looking to get these outcomes into our planning and business cases."
There is still research to be done, however. Tissai-Krishna said the 30% number represents the lowest consistent reductions United Energy saw, but there are still questions about how those hold up in changing weather.
"It is weather sensitive but we don't have enough data to be able to accurately forecast what demand response we can get from customers from what temperature," she said.
But the utility will continue to grow the program, and hopes it can become a larger part of resource planning. 
"Whenever we assess a network option we'll look at non-network options and alternatives alongside it," Tissai-Krishna said. "We really try and bring all these non-network solutions into play."
For a closer look at Bidgely's app, check out the video below: