Dive Brief:
The Bureau of Ocean Energy Management concluded an auction on Wednesday that garnered $315 million in bids to lease areas off the coast of Wilmington, North Carolina, to potentially develop at least 1.3 GW of offshore wind.
The leases were secured by Duke Energy's subsidiary for $155 million and by TotalEnergies Renewables USA for $160 million. Duke estimated that, with increasing turbine technology, its lease area, similar in size to the other parcelDuke, could generate up to 1.6 GW of energy.
The Biden administration is evaluating six additional lease areas in the mid-Atlantic, stretching from the coast of North Carolina to Delaware. North Carolina aims to deploy 2.8 GW of offshore wind power by 2030 and 8 GW by 2040.
Dive Insight:
While Wednesday's auction proceeds were far lower than the recent record-breaking bids in  the offshore wind auction for areas in the New York Bight, the pricing in the individual call areas nearly matched the $140 million estimate for a site auction around North Carolina in an analysis by Environmental Entrepreneurs and the Southeastern Wind Coalition.
In addition, the two leases resulted in bids that were seventeen times larger than the winning bid for the first offshore wind lease area off the coast of North Carolina from Avangrid Renewables five years ago, according to the National Ocean Industries Association.
"We're seeing the maturation of the market and an optimistic outlook for offshore wind in areas beyond our Northeastern states. A stronger supply chain, with new jobs and investments, will stretch through the Carolinas and communities throughout our nation," Erik Milito, president of NOIA, said in a statement.
"The Carolina Long Bay sale is just one in a series set to transform the way the U.S. businesses and homes get their power, with the Federal government targeting +30GW built in U.S. waters by 2030," Anthony Allard, Hitachi Energy's head of North America, said in an email.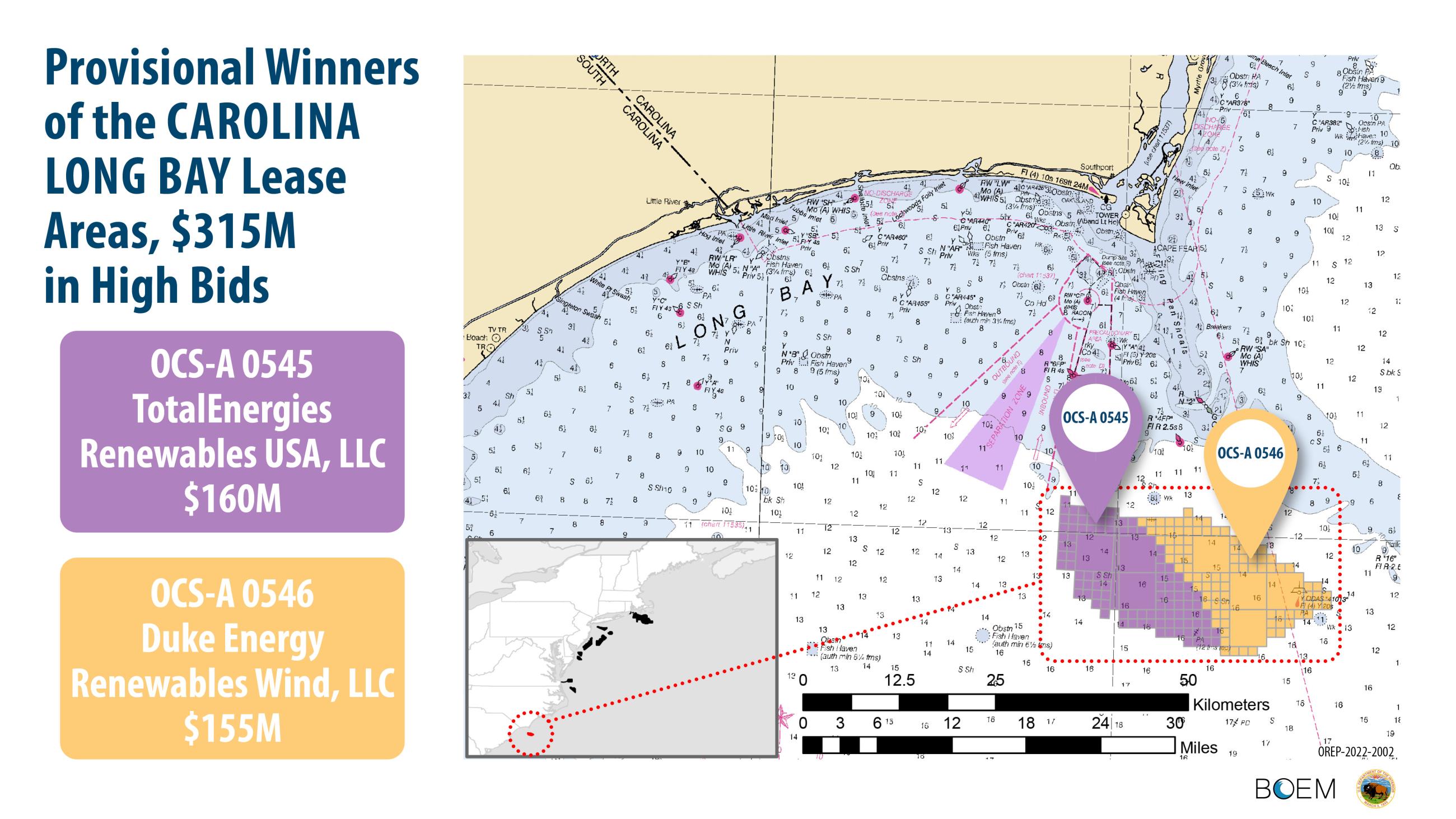 Experts anticipated lower bids in the Carolinas auction for a variety of reasons, from lower offshore wind mandates to less-developed incentives for an offshore wind supply chain in this area, compared to New Jersey and other East Coast states further north.
For the first time, with the North Carolina lease auction, BOEM used an auction credit system intended to encourage direct investment in the domestic supply chain. The agency offered bidders a 20% credit for their commitment to invest in programs that would advance domestic offshore wind workforce training and supply chain development.
The proposed and final sale notices in the Wednesday auction, as well as the New York Bight auction, all reflected slight changes, according to Ella Foley Gannon, a partner at Morgan Lewis. More changes to the auction process are expected from BOEM and "all of the bidders are commenting on this and watching [the auctions] pretty closely," she said.
Bidders, including Duke's subsidiary, applied for the workforce development and supply chain bidding credit and were accepted by BOEM, according to a Duke spokesperson.
North Carolina Gov. Roy Cooper, D, said the state's manufacturing sector would play a major role in the emerging offshore wind supply chain, addressing the International Offshore Wind Partnering Forum in April.
An additional reason for lower market participation in the Wednesday auction compared to the New York Bight is the risk for power generators operating in a fully regulated state such as North Carolina.
While the state is moving toward a decarbonization goal, North Carolina does not have a renewable procurement plan in place, while other states, such as New Jersey, offer renewable energy credits for offshore wind developers. 
"It's somewhat more of a risky proposition to be buying into the North Carolina" offshore wind market, Foley Gannon said. While Duke Energy can propose an offshore wind project to state regulators, "TotalEnergies is just betting on North Carolina or one of its neighbors" having a RECs program soon.
Duke Energy Renewables Wind could begin site assessment activities for the lease area in 2023, allowing for a potential in-service date for a project in the 2030-2032 time frame, according to the company. Separately, the state utility will file a carbon plan proposal with the North Carolina Utilities Commission on May 16, which will include multiple scenarios for reducing carbon emissions on its system.
"Securing this lease creates optionality for future offshore wind if the North Carolina Utilities Commission determines it's part of the least cost path to achieve 70% carbon reduction by 2030 and net-zero by 2050," Stephen De May, Duke Energy's North Carolina president, said in a statement.
The 16 participating bidders included Avangrid Renewables. Other eligible bidders for Wednesday's Carolinas auction included BP US Offshore Wind Energy, Ørsted North America, RWE Offshore Wind Holdings, Shell New Energies US, Invenergy Long Bay Offshore and EDF Renewables Development.