Dive Brief:
Uber plans to encourage wider adoption of electric vehicles by Uber drivers, one of the new initiatives it announced today for travel, autonomous deliveries and events.  
Riders will be able to request a premium electric vehicle, such as a Tesla or Polestar, in Los Angeles, San Francisco and San Diego through its new Uber Comfort Electric feature.
Uber also

added an "EV Hub" and EV charging map

to its driver app. The EV hub provides information on its incentives for drivers who switch to EVs, while the charging map shows drivers where the nearest EV charger is located. 
Dive Insight:
Uber CEO Dara Khosrowshahi put sustainability goals front and center at today's press conference. "Our cities feel alive, the streets are bustling and our climate is at the center of the conversation with people looking for more ways to go green," he said in a YouTube news announcement.
Uber's goal is for all rides in North America and Europe to be in electric vehicles by 2030, said Sachin Kansal, vice president of product at Uber. "Helping drivers go electric is one of the most critical parts of our sustainability strategy," he said. 
That goal could be particularly impactful as, according to a 2020 report by the Union of Concerned Scientists, "ride-hailing services produce 70% more emissions than the transportation options they replace."
One of the key obstacles to that transition is the cost of EV ownership, according to Protocol.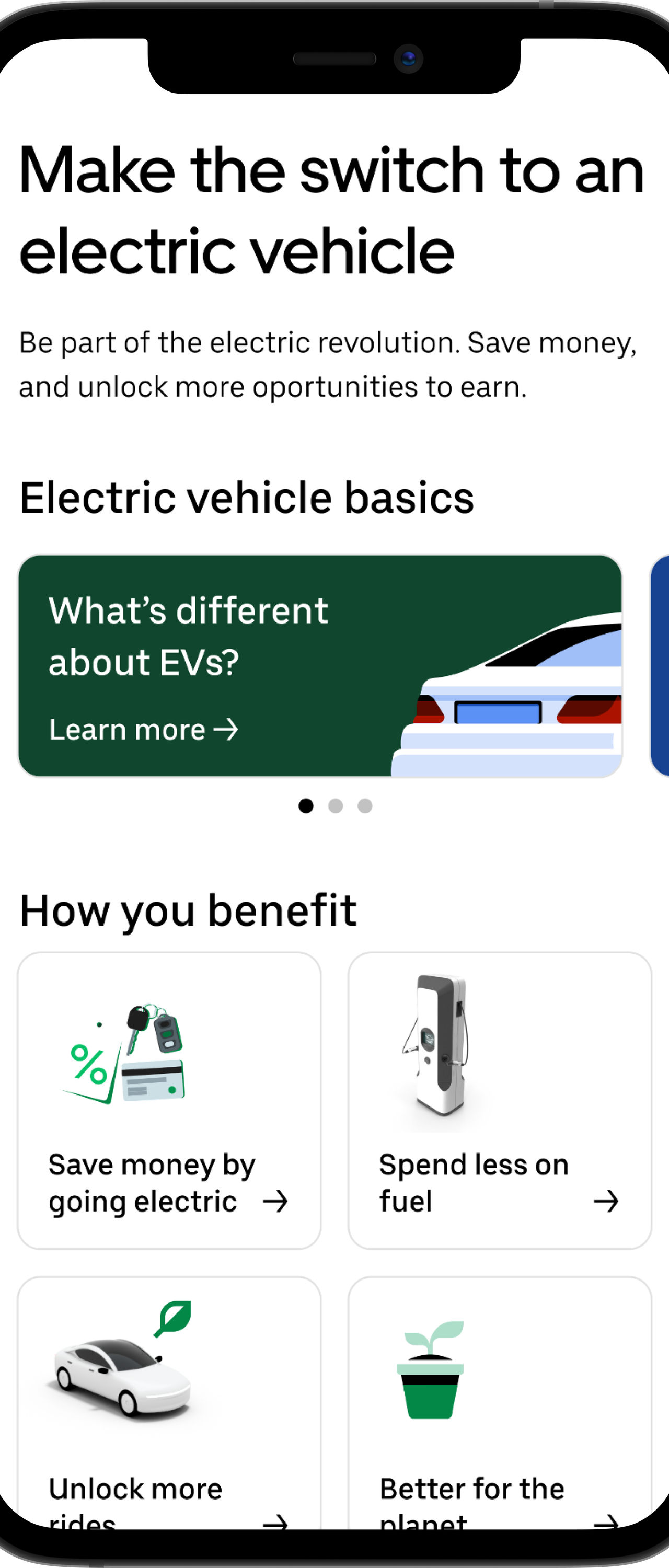 Within the EV hub, drivers will be able to compare the cost of ownership of an EV with an internal combustion engine vehicle. U.S. Uber drivers who switch to electric vehicles can also take advantage of exclusive "best-in-market discounts" on EVs from General Motors and Nissan or discounted pricing from local certified dealers on new and used EVs through TrueCar. EV rental or leasing deals for Uber drivers are also available through Avis, Hertz and other providers.
The company's partnership with Hertz to have 50,000 Tesla vehicles on the road by the end of 2023 will support that electrification goal, Kansal said during the Monday press conference.
Uber will also offer a $1-per-trip zero-emission vehicle incentive to U.S. drivers of battery-electric vehicles for every trip they complete, up to $4,000 annually. Discounts on home chargers and on the use of the EVgo charging network are also available. 
Uber Travel for events and simplified ride scheduling
Khosrowshahi also introduced three new travel services.
Uber Travel will allow users to organize hotel, flight and restaurant reservations within the Uber app and set up rides for each leg of a trip by connecting their Gmail account to the app. Jen You, head of Uber mobility product, explained that changes can be handled through updates in Gmail or can be manually entered in the Uber app. If a flight is delayed, Uber Travel will recognize that and adjust a pickup accordingly. 
Customers will get 10% back in Uber Cash for each reserved ride they book with Uber Travel. 
Another new service, Uber Charter, will allow users to book a party bus, passenger van or coach bus directly through the Uber app, with upfront pricing. The program is launching across the U.S. this summer.
For major events like weddings or business meetings, vouchers can be set up in advance with Uber for guests to use.  
Cailin Crowe contributed reporting to this brief.