Dive Brief:
The Bureau of Ocean Energy Management on Monday announced it has finalized three new offshore wind lease areas off the coasts of Virginia, Maryland and Delaware, after "extensive" engagement with stakeholders — which one climate group said resulted in the proposed areas being shrunk excessively.

"79% of all the initially proposed offshore wind lease space in the central Atlantic was cut – that is far above what is usually cut in this kind of process," Jamie DeMarco, Maryland director of the Chesapeake Climate Action Network, or CCAN, said in an interview.

BOEM said that the three areas, which total 356,550 acres, would support 4 GW to 8 GW of offshore wind energy capacity.
Dive Insight:
The final three lease areas were selected from eight draft wind energy areas, or WEAs, that covered around 1.7 million acres, BOEM said. The initial call area the Department of the Interior identified for public comment in April 2022 covered 3.9 million acres.
"The final WEAs are in comparatively shallow water," BOEM said in a Monday release. "BOEM may identify additional WEAs in deepwater areas offshore the U.S. Central Atlantic coast for future leasing once further study of those areas has been done."
DeMarco said the relative size of the final lease areas and the amount of offshore wind capacity they can support are a "huge disaster" for both state and federal clean energy goals.
Maryland has a goal of building 8.5 GW of offshore wind capacity by 2031, he said, and will share these lease areas with Virginia and North Carolina, which have their own offshore wind targets, along with Delaware, which is developing targets.
"There are existing lease areas where Maryland can build about three gigawatts, but that still leaves about five gigawatts of wind that we have to build in the new lease areas," DeMarco said. "So that almost entirely eats up what there is just for Maryland."
He said that input from the Department of Defense, which raised concerns in April about the proposed wind energy areas conflicting with military operations, "bulldozed the process."
The Business Network for Offshore Wind said in a Tuesday release that the lease areas are "substantial" but "insufficient to meet current state goals."
"Already in the Central Atlantic, states have set targets for 21 GW of offshore wind generation — a number that will only increase as Virginia's energy demands grow, states like Delaware enter the market, and other states work towards their own clean energy goals," said BNOW's Vice President of Strategic Communications Sam Salustro.
In a comment responding to CCAN's concerns, BOEM said that the agency is committed to holding auctions in these lease areas by August of next year, and will continue to collaborate with federal and state agencies, tribes, ocean users and impacted stakeholders to consider other wind energy areas in the Central Atlantic for a possible second sale.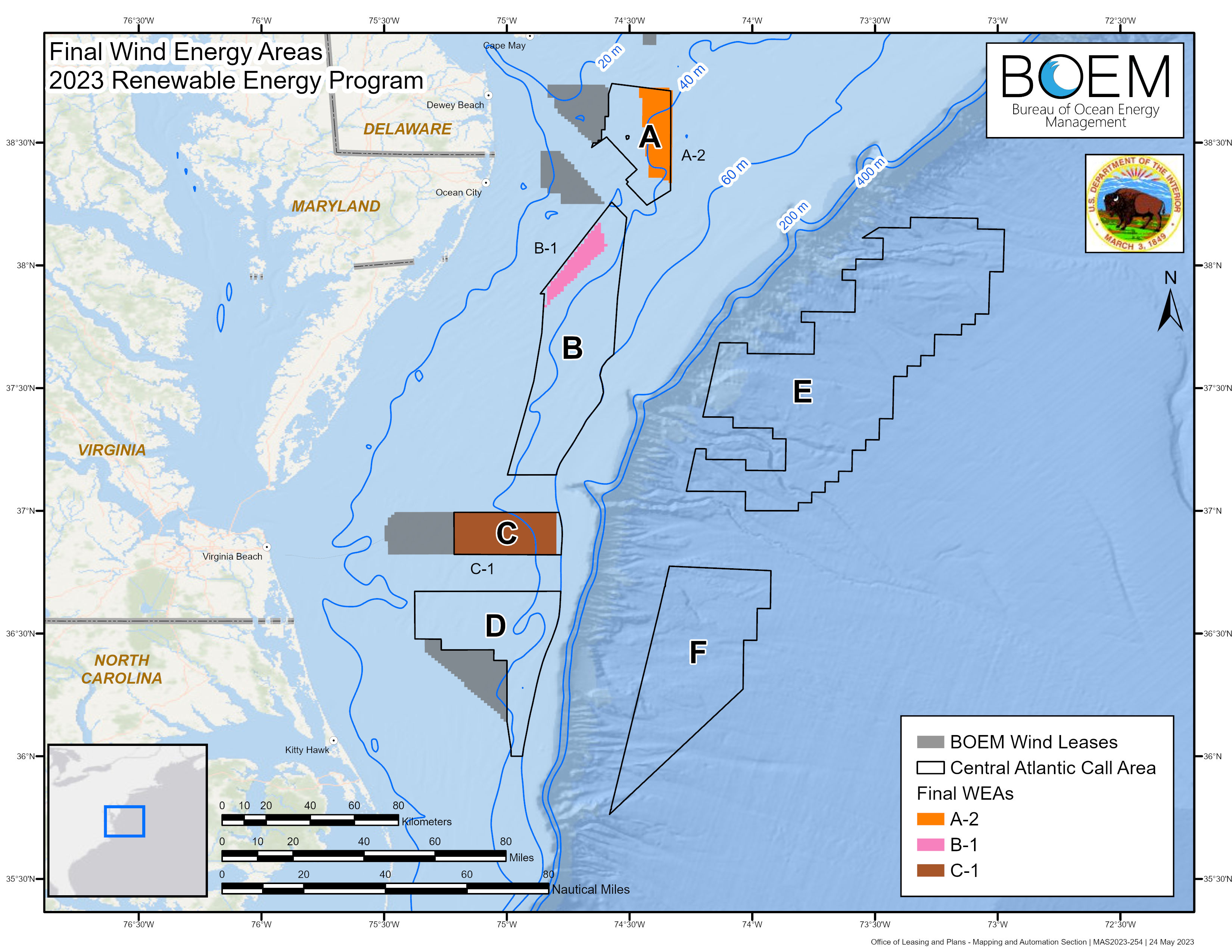 "We think that BOEM should add another lease area in area A, which is, to our understanding, entirely deconflicted," DeMarco said. "We don't think DoD has any issue with A, and I'm not sure why so much of it was cut."
BOEM's release said that the agency's "ongoing coordination with the Department of Defense and NASA" will involve an in-depth review of area B-1, which sits 23.5 miles off the coast of Ocean City, Maryland.
"The results of the final in-depth assessment from DoD and NASA will be used to inform whether WEA B-1 should be included in a possible lease sale, which would be the next step in the wind energy process," BOEM said.
DeMarco said that CCAN is concerned BOEM may shrink the B-1 lease area even further as a result of that assessment. 
"At an absolute minimum, these maps cannot get any smaller," he said. "So the most important thing for BOEM to do is to not make the situation worse. And within a year of this process concluding, we think that BOEM should start a new process for issuing lease areas, to look at more — both shallow water and deep water — options for siting offshore wind turbines."