Dive Brief:
Opponents of the proposed Access Northeast gas pipeline have issued a new report that calls into question both the project's estimated cost and the regional gas demand it claims to feed.
Spectra proposed the project, which involves upgrading the existing Algonquin Gas Transmission system and adding regional liquefied natural gas storage assets in New England. But the pipeline has run into funding difficulties, as it relied on ratepayer money from electric utilities to support its construction, an idea the courts have rejected.
Synapse Energy Economics' report, issued last week, concluded the the pipeline will cost $6.6 billion to construct — more than twice what Spectra estimated — and regional demand will decline shortly after construction is complete.
Dive Insight:
New England gas use is on the brink of a precipitous decline, according to Snapse Energy, fundamentally calling into question the need for more transport capacity.
The firm, which argues the Access Northeast pipeline is not needed, said in a blog post that existing laws and regulations "will cumulatively require New England's use of natural gas for electric generation to decrease by 27% by 2023, relative to 2015 levels."
Natural gas use is forecasted to decline "dramatically" beginning in 2023, "just a few years after the [Access Northeast] pipeline is supposed to be fully operational," the firm said. The reason is a mix of existing laws and policies, including renewable portfolio standards, energy efficiency standards, hydropower and wind power requirements, and carbon dioxide emissions caps.
By 2030, natural gas-fired electric generation is estimated to be 41% lower than in 2015, Synapse found. And in addition to construction cost overruns, the group also questioned the pipeline's impact on regional pricing.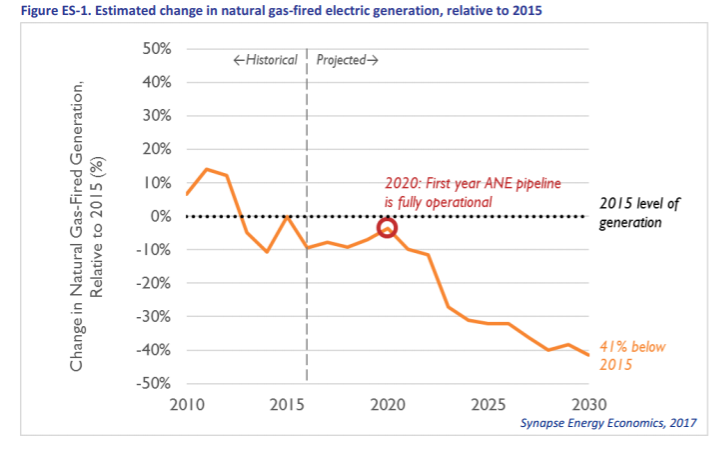 "If the pipeline is built, New England ratepayers will pay additional costs of $277 million over its lifetime," Synapse said. "Even if the ANE pipeline reduces constraints and gas prices, it will cause overall price increases for consumers throughout New England due to the cost of the pipeline itself." And electric ratepayers in Massachusetts and Connecticut will pay additional costs of $141 million and $85 million, respectively, the firm estimated.
Pipeline backer Eversource told The Republican newspaper that the report misrepresents the region's energy situation.
The analysis is "flawed and fails to recognize the energy challenges facing consumers and businesses in New England," the utility said in a statement. "The lack of adequate natural gas infrastructure is threatening our region's energy reliability, driving up costs and hurting efforts to lower greenhouse gas emissions."
Eversource Energy and National Grid both withdrew petitions for capacity on Spectra Energy's proposed line after Massachusetts' Supreme Judicial Court blocked state regulators from approving contracts requiring electric utility customers to support pipelines construction. Backers are still considering how to fund and construct the line.