Dive Brief:
A new state report on California wildfires and the state's utility system concludes that any real solution to cost allocation "shares the burden broadly among stakeholders," including ratepayers, investors, insurance companies and local governments.
The report, issued Friday, was developed by a "strike force" convened by California Governor Gavin Newsom, D, to examine growing threat of fires. Of the 20 most destructive wildfires in the state's history, half have occurred since 2015.
The new report considers changes to "inverse condemnation" liability laws along with development of funds to help utilities manage costs. California's strict liability rules have forced utilities to take billions in charges and led Pacific Gas & Electric to file for bankruptcy in January.
Dive Insight:
Shares of PG&E leapt 20% on Friday, as the market digested the new report's take on how to pay for wildfire devastation linked to both climate change and utility operations.  
"Developing workable solutions to equitably share the burden of compensating victims for wildfire damages is made more challenging by uncertainty regarding the future effects of climate change and the efficacy of mitigation efforts," the report warned.
California's strict interpretation of inverse condemnation means a utility can be held liable for wildfire damages even if it was not negligent. But wildfires have become not just more frequent, but also far more devastating in recent years, with damages in 2017 and 2018 combining to top $40 billion.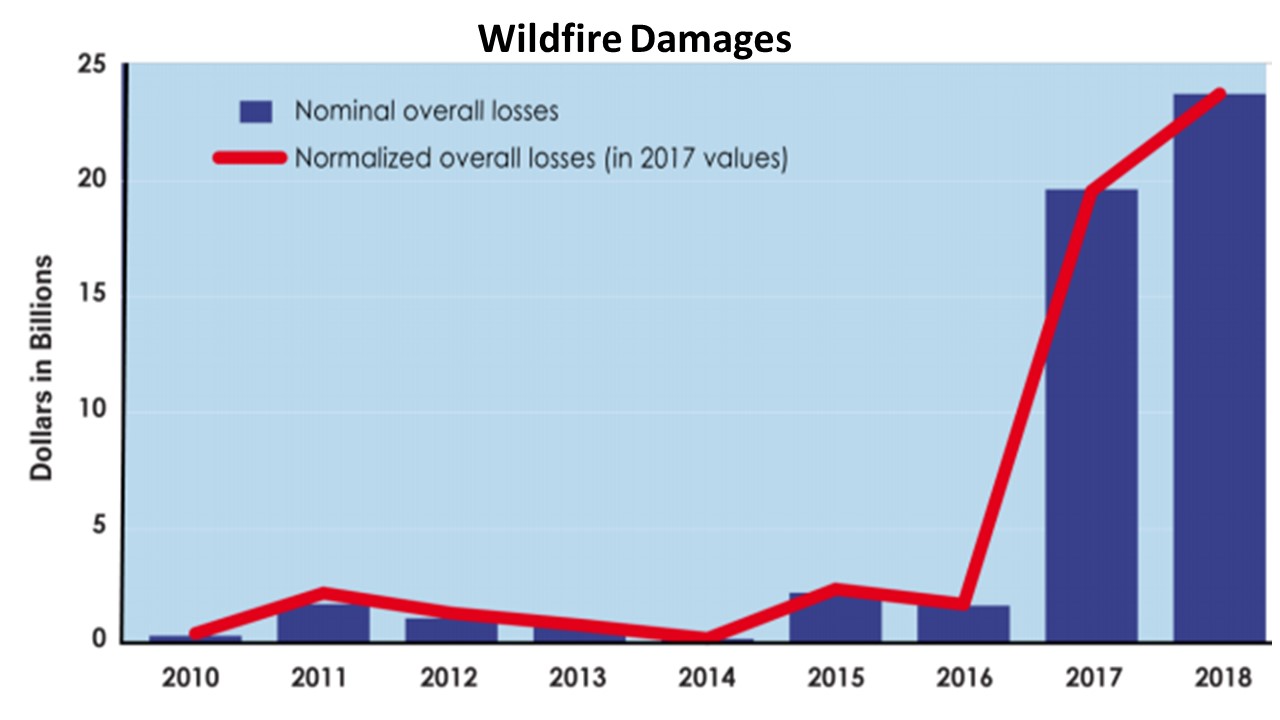 "We do not know whether this magnitude of damage is a new normal, or if recent years were aberrational," the report says. "Experts consulted by the strike force believe climate change, development patterns, deferred utility equipment maintenance, and other factors suggest much heightened risk going forward but predicting how much risk and how consistently is more difficult."
The report warned there is also "uncertainty about the level of success we can expect in reducing the frequency and severity of wildfires.
The strike force's report focused on three concepts for allocating responsibility for wildfire costs:
A liquidity-only fund to help utilities pay for wildfire damage claims pending cost recovery determinations by the California Public Utilities Commission;
Adoption of a "fault-based standard" that would modify California's strict interpretation of liability rules and inverse condemnation;
Creation of a "catastrophic wildfire fund," alongside a revised cost recovery standard to spread costs "more broadly among stakeholders."
Changes to inverse condemnation rules have been considered in the past, but lawmakers have balked at anything that could potentially be seen as utility bailout. Moody's Investor Services this month predicted changes to liability rules are unlikely in part because of negative perceptions of PG&E.
Moody's analysis concluded a state catastrophe fund "appears to be the reform that is most likely to happen."
Ratepayer advocates, however, have warned against asking customers to foot the bill. 
"The goal of protecting consumers by making it clear that investors, taxpayers, and other stakeholders must share in the costs of wildfire prevention and damage is one we are in total agreement with," The Utility Reform Network (TURN) Executive Director Mark Toney said in a statement. 
TURN says any legislative solution must ensure ratepayers do not pay for wildfire damages, "whether caused by utility negligence or not."
Newsom's report laid out several principles for allocating cost, including maintaining safe and affordable power, holding utilities accountable, treating wildfire victims fairly, requiring equitable stakeholder contributions, and others.
The report includes recommendations but no firm path forward, leaving that to lawmakers.
"The choices are difficult, the future is uncertain and the solutions are imperfect. But legislative action is necessary for the stability of the state's energy market to meet the needs of Californians, and to achieve the state's clean energy goals," the strike force wrote.
The report was received favorably by lawmakers. Senate President pro Tempore Toni Atkins, D, called the report "thorough, substantive and well-researched."
"This report confirms our fear that ratepayers are on the hook for large rate increases if we do nothing," Atkins said in a statement. "As legislators, we will continue to address these critical issues."
While PG&E has been most hard-hit among the state's utilities, Southern California Edison last week asked federal regulators to significantly raise its return on equity due to "dramatic, material changes" to its regulatory and financial conditions. The utility estimated the higher rate of return would mean average residential customers would see an increase of about $2.20/month on the FERC-regulated portion of their bill.
Shares of PG&E closed about $23 on Friday, following the report's release, up almost $4/share.
PG&E last week unveiled broad leadership changes, selecting Bill Johnson, who led the Tennessee Valley Authority for six years, to take over as president and CEO. PG&E also announced 10 new directors have been appointed and seven current directors will step down.
Newsom's report says the state will "demand that a reorganized PG&E serve the public interest," and said "no options can be taken off the table" to reform the utility. That could possibly including breaking the company into smaller operating units or separating its gas and electric operations, which the utility has said it would be open to considering.