Dive Brief:
The U.S. has 61 gigawatts of undeveloped hydroelectric power potential on waterways without dams or diversion facilities and that doesn't count the potential in Alaska, Hawaii, and on federally protected lands, according to the New Stream-reach Development Resource Assessment by Oak Ridge National Laboratory (ORNL) for the DOE. However, the latest EIA reference case calculation foresaw the addition of only 2 gigawatts of new U.S. hydropower capacity by 2040.
The two disparate numbers highlight the huge gap between technical potential, which is what the Oak Ridge report calculated, and economic and operational potential, which is what EIA used for its Annual Energy Outlook 2014 (AEO2014) forecast of near- and mid-term numbers.
To obtain the maximum feasible potential, Oak Ridge included new technologies like in-stream turbines as it assessed some three million streams with topographical, hydropower, hydrologic, and environmental datasets, and considered each one's ecological, social, cultural, policy, and legal constraints.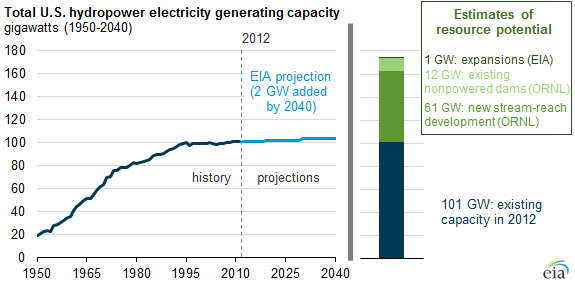 Dive Insight:
Hydropower is a mature technology and most of the technically and economically superior sites have already been developed. EIA's AEO2014 reference case reflected less potential because it factored in market and policy obstacles to U.S. hydropower, including economic factors, performance characteristics, federal regulations, electricity demand, and the cost of competing generation sources.
Potential hydropower capacity is divided into three resource classes, (1) undeveloped sites without dams (new stream reach); (2) existing dams without hydroelectric facilities, or nonpowered dams (NPDs); and (3) existing hydroelectric facilities with potential for additional generating capacity. A 2012 DOE-sponsored assessment of NPDs by Oak Ridge found 12 gigawatts of hydroelectric capacity in that category. EIA's AEO2014 found a 1.4 gigawatt potential in the third resource class, the expansion of existing hydroelectric facilities.