More utilities are discovering that going digital puts them where their customers are.
Almost any commercial transaction consumers have today includes a digital, online, and/or mobile option. Customer satisfaction measurably rises with interactions that are personal, self-service, and available 24-7. Like the rest of the retail world, utilities are turning to digital to engage customers in these ways.
"The objective is to provide customers with a better experience as they engage with their utilities," said Oracle Utilities Product Strategy and Marketing Sr. Director Neel Gulhar. "There are many ways to do that and smartphone apps is one, but the right strategy is more comprehensive and includes a good mobile app, text and email messages, and a secure website experience."
Utilities are now competing for better ways to engage customers and it is paying off in more than just customer satisfaction. Regulators granted utilities in the bottom quartile of customer satisfaction ratings a lower percentage of their requested rate of return than utilities in the top quartile, according to an April 2015 study by PwC.
In addition, customers who trust their utilities are less likely to turn to disruptive competitors. Successful customer engagement will "discourage your customer base from making a change to an unknown and untried service provider," PwC reported.
Successful customer engagement also helps utilities meet energy efficiency mandates, smooth peak loads, and implement new rate designs, according to Leesa Lee, head of marketing for Bidgely, a utility data disaggregator and smart phone app provider. But getting participation in programs is difficult when customers' only interaction with the utility is a monthly bill.
"Most utilities have to start building engagement and personalized information, tips, and alerts through an app is a great way to do it," Lee said.
Neil Strother, principal research analyst at Navigant, said digital access can give utilities a "mobile front door," via smartphones and tablets. and an "online front door," via a website.
But digital portals, and especially apps, can be too complicated, Stother added. "It takes a concerted effort by the utility but, if you're going down that road, and I think you have to if you are going to engage your customer base, you have to put the time and money and effort into it."
Digital customer engagement, it turns out, is a marketing tool. When it works, utilities can deliver new technologies customers want and build their own bottom lines.
Going online
According to the PwC paper, utilities can accomplish their customer engagement goals through three key strategies. One is simplifying utility-customer interactions. The second is using advanced analytics to process customer data and make interactions personal. The third is securing customer loyalty by proactively offering actionable information.
The Oracle Utilities "Digital Self Service" platform, used by over 100 utilities ranging from large IOUs to small munis and co-ops, is built on "pillars" that echo the PwC strategies.
Oracle's Gulhar said the platform is designed to enable consistently frictionless, transparent, online transactions. Its proactive prompts to customers are designed to increase the utility's web traffic. And the prompts deliver actionable "personalized insights and targeted recommendations."
Oracle's "Moments that Matter" strategy incorporates those concepts. It is an answer to the reality that "customers don't spend a lot of time thinking about energy from their utilities," Gulhar said.
Customers spend an average of 8 minutes to 12 minutes per year engaged with their regulated utilities, according to the 2016 Accenture survey Gulhar cited.
Within those minutes, Oracle has identified 12 types of utility-customer interactions. They are "the low hanging fruit in customer engagement because they are moments when customers really want to hear from their utilities," Gulhar said. "In each of those moments, the question is what the right channel of communication is."
When a customer's monthly bill is spiking, a utility notification can be much appreciated but a smartphone app is not the best channel for that communication, Gulhar said. That is a moment for a text or email.
"The utility needs to alert the customer to take action quickly," he said, "not wait for the customer to go into an app."
During an outage, however, an app can play a key role in customer engagement, he added. The first step should be an email or text confirming the outage and reporting its expected duration. Subsequently, a smartphone app allows customers "sitting at home in the dark" to access, as frequently as they choose, the most current on updates on when power will be restored.
"An app can give the customer the most frictionless and detailed experience of the outage," Gulhar said. "But the utility needs to understand the customer experience and what communication channel works best when."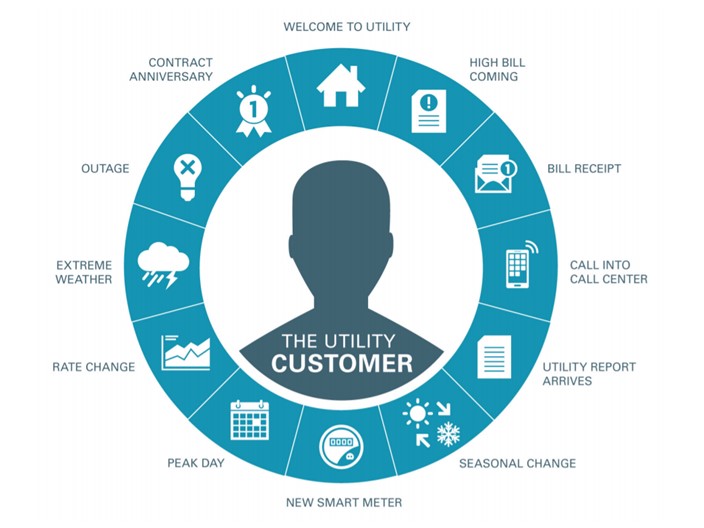 The mobile app is farther down utilities' lists for engaging customers than texts, emails, and a good website, Gulhar said. "The more interesting question utilities are asking is how they can engage broadly with customers as they work to become their customers' trusted energy advisors."
Dave Oberholzer, vice president at Whisker Labs, said the mobile app becomes more important as customer engagement capabilities become more timely.
Whisker Labs works with smart thermostat giant Honeywell to execute demand response (DR) programs in partnership with utilities. Oberholzer mentioned large IOUs Consolidated Edison, Pacific Gas & Electric (PG&E), and Southern California Edison among their utility partners in energy efficiency programs and pilots.
Utility customer engagement begins after Honeywell secures a smart thermostat customer and installs the device. Whisker analytics assess the potential of the customer's house for efficiency savings.
To get the customer to opt into the DR program, a Honeywell-branded email delivers a "scorecard" developed by Whisker showing the house's potential energy savings. Those savings may be offered to the customer at no charge if Whisker is given limited control of the new thermostat to use during DR events.
Honeywell-branded Whisker scorecards are emailed to participating customers monthly. There is no point in more frequent or streamlined communications because the utility data is at least two days old and therefore not actionable. But Whisker is about to raise that bar.
By the end of 2017, Whisker will begin marketing a device that will allow homeowners to provide real time usage data that can be used to provide actionable messaging to customers.
Some mobile app providers  now provide that type of engagement, Oberholzer acknowledged. But customers must be willing to expend the money and time to have monitoring and communications hardware installed by electricians, he said. "That tends to blow up the business model because it's expensive."
The Whisker device, which can be installed inexpensively by the homeowner, will provide real time, high frequency energy data that will "allow better analytics and do demand response better." And other companies, like Bidgely, are providing customer usage information without any hardware, using smart meter data to identify the demand of individual appliances. 
When that real-time data is available, "a mobile app will be crucial to the customer experience because it can provide the newly available depth of content and deliver actionable alerts," Oberholzer said.
Mobile and beyond
Navigant's Strother said moving to mobile apps is a particularly difficult part of going digital. "Many parts of the utility, like billing, outage management, marketing, want to connect," he said. "It's hard to hide the complexities of that and maintain useful tools."
Important vendors like Tendril, Powerley, Bidgely, and Smart Utility Systems are beginning to offer a wide range of those functions, he said.
Bidgely's Lee said its core technology is the disaggregation of customer appliance usage and the delivery of actionable information.
"We are able to disaggregate and itemize the usage of appliances by the smart meter data wave form signatures," she said. "The utility can then give consumers an itemized usage list like the list of items charged on a monthly credit card bill." 
Initially, its utility-partners delivered Bidgely's utility-branded "rich estimate" of usage and "tips and recommendations" for energy savings via Bidgely's mobile app, Lee said. "But utilities are broadening the ways they engage with consumers to web portals, notifications, and alerts," she added. "Some still use paper bills."
Bidgely's utility-partners have more than doubled to 25 in the last 18 months and its programs have expanded from small pilots to full scale deployments, Lee said. "We're at about 2 million homes now and will have our system rolled out to about 4 million by the end of this year."
An automated system assesses a utility customer's usage and historical data and uses a "next best action" analysis to deliver a personalized "next opportunity to save," Lee said. "It's a one-of-a-kind utility-customer interaction."
It can be delivered through a mobile app, an email, or a notification to a customer who logs on to the utility website. "We are only in the early stages of what the core technology can do and how it can fundamentally change the way utilities interact with consumers."
Bidgely disaggregation analytics can determine when a customer makes a recommended change and deliver another "next best action," Lee said. That ability to use personalized information without troubling the customer to update information will significantly change and improve utility-customer interactions.
Because of that, Lee said, disaggregation is becoming "table stakes" for utilities, whether delivered via mobile app, email, text alert, or website.
Going to market
"Only 27% of energy consumers are active digital users," according to Accenture's 2017 New Energy Consumer report.  And "a third of energy consumers are still struggling with their experiences on their energy provider's digital channels."
That leaves a lot of room for growth. The Simple Energy partnership with San Diego Gas and Electric (SDG&E) on behavioral DR and energy efficiency programs is an example of how that can happen.
Using snail-mailed and emailed home energy reports, the Simple Energy Engagement platform successfully achieved SDG&E DR and efficiency objectives, according to Client Solutions Vice President Rob Carr. Simple's customer engagement techniques were key.
The SDG&E programs led Simple Energy to realize customers "respond to the opportunity to get something for participation" and "are willing to take action if they have the right motivation," Carr said.
The result is Simple Energy's utility-branded online ecommerce Marketplace platform. Commonwealth Edison (ComEd), Southern Company subsidiaries Georgia Power and Gulf Power, and Xcel Energy are among the nearly 50 utilities using it for about 25 million customers who have driven over 275,000 direct sales totaling $13 million in value, according to Carr.
Through Marketplace customer engagement, customers can get an instant online rebate for purchases of utility-marketed product and services that contribute to DR and efficiency objectives.
The platform is designed to allow customers to participate through the web, via online chat, phone, or any mobile device. All Simple Energy solutions are designed for mobile first because the app has to be effective to get a customer over the hurdle of downloading it, Carr said.
A major Simple Energy insight has been that customer conversion is based on the appeal of the rebate. "For a $250 Nest or Ecobee smart thermostat, if the rebate is only $15, there is only a 1% conversion rate," Carr said. "If the rebate is $50, we see about a 4% conversion rate. With the $100 rebate ComEd and Georgia Power offer, the conversion rate has been around 9%."
Recent offers by New York utilities verified that "there is a direct correlation to the size of the rebate and the conversion rate," Carr added.
The Simple Energy Marketplace's 5.6% conversion rate in 2016 was much higher than the average e-commerce industry conversion rate of between 1% and 4%, according to Carr. Utilities are now asking him how they can use the platform to market distributed energy resources.
"They want to use Marketplace to play a role in offering rooftop solar or community solar or electric vehicles," he added. "And they want to know how they can bundle an electric vehicle purchase with a rebate and an EV charger purchase and enroll the purchaser in a utility-designed EV charging rate in one simple transaction."