UPDATE: Aug. 26, 2019: Amazon alleges a Tesla rooftop solar panel was also the cause of a fire at one of its warehouses in California, the retail company told Bloomberg News Friday. 
And Walmart and Tesla are currently negotiating Walmart's allegations against the developer, the companies said in a joint Friday statement.
Dive Brief:
Tesla solar panels sparked fires at at least seven Walmart stores last year, causing millions in damage, the retail giant alleged in a lawsuit filed Tuesday in the Supreme Court of the State of New York.
Walmart accused Tesla of "gross negligence" and said the fires were caused by the company's failure to follow "prudent industry practices" in installing, operating and maintaining its solar systems.
According to the lawsuit, Walmart had leased or licensed roof space to Tesla at more than 240 locations for the installation, operation, and maintenance — but following the fires, requested all systems be de-energized.
Dive Insight:
Walmart pulled no punches in its filing, laying blame squarely on Tesla for what it calls shoddy workmanship. 
In the suit, Walmart said its inspectors observed "negligent and dangerous wire connection practices, which were readily apparent at many of the sites visited and are a critical risk factor in contributing to fires." 
Tesla did not immediately return a request for comment. The lawsuit says Tesla has reimbursed Walmart for some, but not all of the losses.
The largest losses occurred at the company's store in Indio, California, where a fire caused damage to the facility and its merchandise. Walmart said repair costs totaled more than $3.1 million, and merchandise valued at more than $6 million was "destroyed."
Including consultant and attorney fees, the company said it expects out-of-pocket damages incurred as a result of the Indio fire to exceed $8.2 million.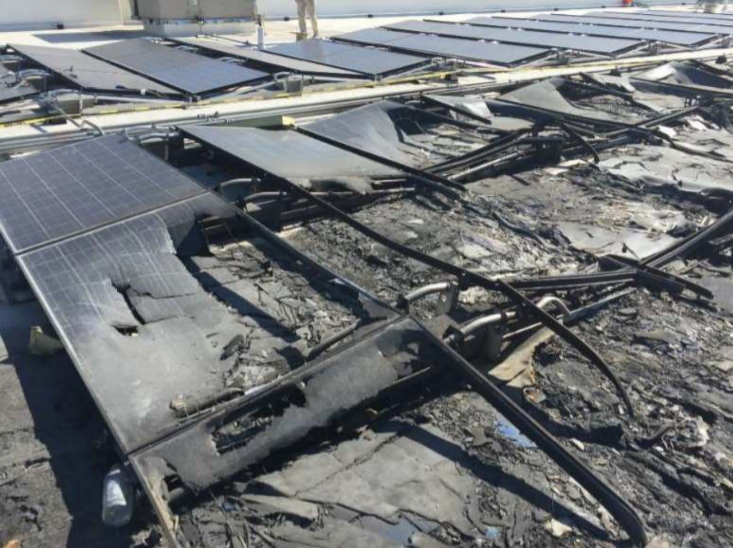 After reviewing the damage caused by fires, Walmart said in some instances it appeared Tesla personnel made cable connections using connectors that were not compatible.
Walmart said its investigations "quickly discovered that Tesla routinely deployed individuals to inspect the solar systems who lacked basic solar training and knowledge."
Tesla has struggled with its solar business, since acquiring SolarCity in 2016, when it was the leading solar installer in the United States. Since the $2.6 billion acquisition, the company has lost market share as installations declined.
On Sunday, the day before the lawsuit was filed, Tesla CEO Elon Musk announced the company had "relaunched" its solar division and will offer to rent rooftop panels to homeowners in six states, starting at $50/month for a 3.8 kW system.
According to Walmart, Tesla last month responded to Walmart's complaint and "admitted that its site inspections to date 'have identified areas for improvement and opportunities for error correction.'"
Walmart asked the court to conclude Tesla breached its solar agreements, require it to "remove the solar panel systems from all Walmart locations," and award damages "in an amount reflecting the outstanding value of out-of-pocket costs and consulting fees in connection with all the fires caused by Tesla's solar panel systems."
The suit also requests the court award damages "reflecting the value of any contractual payments owed to Walmart" under its solar agreements with Tesla.