Dive Brief:
The imbalance of mid- and late-day load brought about by rising levels of renewable energy, sometimes called the duck curve, is growing faster than expected, according to a report from consultancy ScottMadden.

The report found that net load, or the belly of the duck, is "significantly lower" in 2016 than forecasted, with the minimum daytime net load dropping 31% from 2011 to 2016.

Ramping hours, the neck of the duck, were also greater than expected, with the three-hour ramp exceeding 5,000 MW 58% of the year in 2015, up from 6% in 2011.

The report found that significant changes in daily daytime minimum net loads and daily late-day ramps are primarily driven by utility-scale solar in California, not distributed generation as expected.
Dive Insight:
The most famous animal in the power sector is growing faster than expected, according to one new report.
The duck curve is the product of a 2013 analysis of projected electric load for 2012 through 2020 undertaken by the California ISO to better understand how increasing renewable resource penetration would affect the grid. The analysis examined net load, which is the load served by the electric system minus the load served by variable generation.
CAISO's analysis found that in certain times of the year net load drops during mid-day and quickly ramps up to a late-day peak, and that the steepness of that curve would become more severe each year, resulting in a growing gap that would need to be filled by generation that can ramp up quickly.
In its report, ScottMadden compared the original CAISO forecasts to detailed, actual operational data, and conclude that "the duck curve is real and growing faster than expected."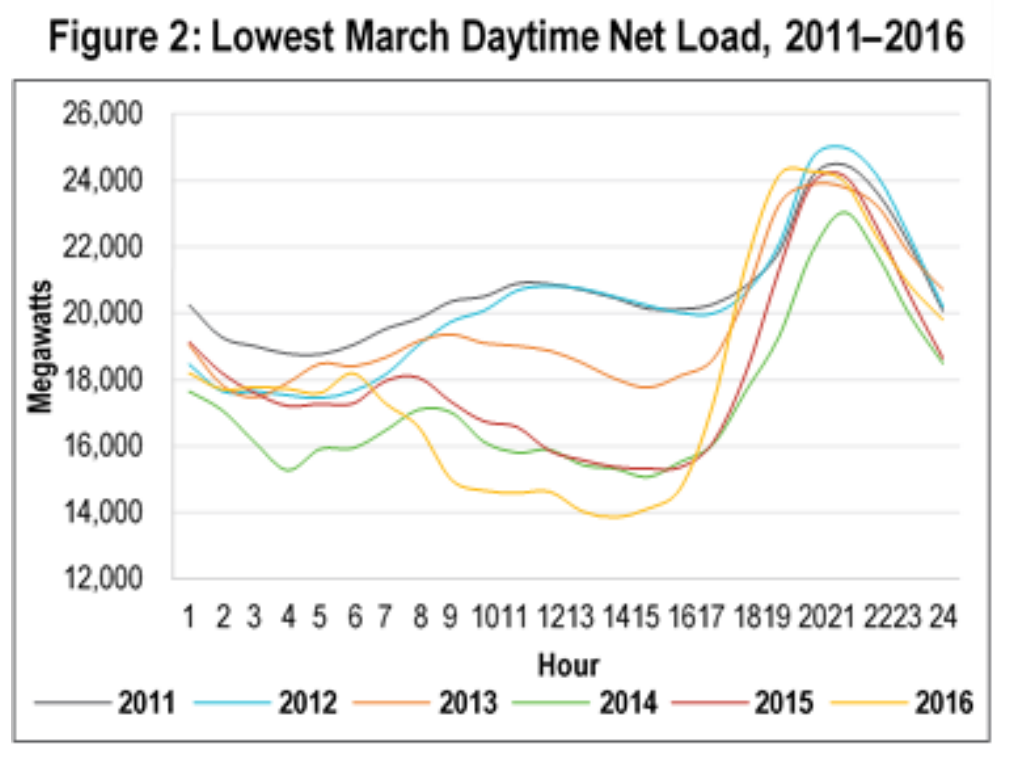 ScottMadden's analysis found that the 2015 duck curve was most pronounced on weekends. It also found that, while the original analysis was based on a typical spring day, specifically March 31, the most prominent effects in 2015 occurred in November, December, and January.
"One of the most important implications is the 'duck curve' may migrate to other parts of the United States," Greg Litra, a partner with ScottMadden, said in a statement. "Growing numbers of utility-scale solar installations could mean that 'the duck' could migrate to states like Arizona, Georgia, Nevada, North Carolina, and Texas in the not-too-distant future," he said.
ScottMadden cited a report by GTM Research and the Solar Energy Industries Association that says each of these states are forecasted to have more than 3,000 MW of utility-scale solar by the end of 2021.
The consultancy's report comes after some hopeful news about renewables integration in recent months. In August, Jim Lazar of the Regulatory Assistance Project wrote that recent power data suggest that ine imbalance between daily minimum and maximum load appears to be diminishing, particularly in Hawaii, where about 15% of residential customers have rooftop solar.