Coal power was the backbone of American industry for the last 100 years. But by 2020, the U.S. Energy Information Administration (EIA) predicts that about 60 gigawatts (GW) of coal-fired capacity will be retired. That's 6.2% of all U.S. capacity, according to calculations based on NERC data.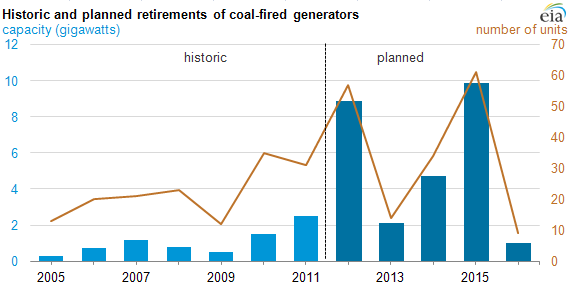 Even more retirements are expected to be announced in the coming months and years.
The decline of coal as a fuel source raises a thorny, existential question for utilities: What will coal, the dominant electric fuel source today, be replaced with? And what will the grid, with its reliance on fossil-fueled power fleets, look like tomorrow?
Coal is going, going, going...
From 2007 to the present, coal-fired power shrunk from 50% of total U.S. electricity generation to a little over 40%. And that's before the EPA issues new carbon emissions rules for power plants this year.
The trend is clear: Coal power is in decline.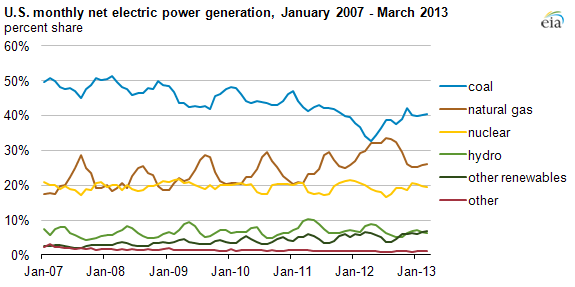 President Obama has made eliminating emissions, particularly those from coal power, an essential goal of his climate action plan. 
The EPA plans to finalize carbon emissions regulations for new power plants this June, while also announcing draft carbon emissions rules for existing power plants. In tandem, these rules are widely expected to prevent new coal plants from being built and are already sparking a rise in coal plant retirements.
Ron Binz, previously nominated to lead FERC by President Obama, calls these rules the "great underestimated change that is about to engulf U.S. regulation."
One of coal's last hopes appears to lie in "clean coal" technology. But carbon capture and sequestration—wherein carbon dioxide emissions are collected and stored underground instead of being released into the atmosphere—is not yet ready for the mainstream. 
Efforts, such as Southern Company's Kemper power plant, are underway to make carbon capture and storage a real option for coal plant owners and operators. If these efforts are successful—and "clean coal" becomes a cost-effective reality—coal power could remain part of the picture. Otherwise, expect the coal power phase-out to continue. 
What will replace coal?
Assuming coal starts to exit the picture, what could take its place? 
Natural gas
Natural gas is coal's biggest competitor in the market today, and it is growing. 
A 2008 Electric Power Research Institute (EPRI) study found that natural gas plants cost less than half the price of a coal plant to build, and a quarter of the cost of a new nuclear plant. The other great thing about natural gas is that many coal plants can be converted to natural gas, thereby mitigating the possibility of stranded assets. The EIA predicts that natural gas will overtake coal as the dominant electricity generation fuel by 2040. 
But even as natural gas use for power generation rises, so will the price of natural gas. In February, the price of natural gas for March was $6.15 per million British thermal units—the highest since 2009. And its price volatility was very much on display this winter, leading some to question whether it can replace coal. And although natural gas is cleaner than coal, it is still a fossil fuel, which means will likely become the primary target of emissions regulations after the flood of regulations targeting coal power take effect.
Natural gas is thus seen as a reliable, near-term supply option. Whether it can be a long-term option will depend largely on policy and regulation, as well as price volatility.
Energy efficiency
"The cleanest megawatt-hour will be the one we never need," goes the saying.
There's truth to that: Although energy efficiency alone cannot power an entire nation, it can help mitigate lost capacity from coal plant retirements.
After all, the cheapest power resource is energy efficiency, according to an ACEEE report. At about 3 cents/kWh, energy efficiency costs two to three times less than conventional power sources.
While greater energy efficiency would spell the end of utility business models based on electric sales volume, some utilities see an opportunity.
"I think we could make money by selling less. I really do. And I know that sounds crazy," said Ralph Izzo, CEO of Public Service Enterprise Group. "Let's talk about pushing the utility deeply into energy efficiency. Let's not stop the utility at the meter. [...] Let's talk about the utility being the infrastructure owner of those energy-consuming assets that customers are willing to let us take over."
With the help of state and federal legislation and changes to the utility regulatory model, expect energy efficiency to keep electric demand growth at a snail's pace and reduce the need for other power supply resources.
Distributed generation
One of the fastest-growing power resources in the U.S. today is distributed generation. Particularly, rooftop solar:
Driven by falling technology prices and the success of solar leasing models, distributed solar saw an estimated 1,900 MW of capacity installed in 2013. That's a whopping 12.3% of overall capacity added in the U.S. in 2013, based on EIA data.
The emergence of energy storage could play a big role in driving the distributed solar boom. If retiring coal power fleets are replaced with solar-plus-storage, this could spell bad news for utilities. "Equipped with a solar-plus-battery system, customers can take or leave traditional utility service with what amounts to a 'utility in a box,'" according to a recent Rocky Mountain Institute report.
Solar-plus-storage will bring "natural deregulation" to the electric power sector, DNV GL's Nicholas Abi-Samra recently told Utility Dive. Energy consumers will have something they've never truly had before: a choice.
But not all utilities see distributed generation as a threat.
Integrys, Duke Energy, NextEra Energy and Edison International are amongst the utilities seeking to capitalize on rooftop solar. In fact, 57% of utility execs surveyed by Utility Dive in our annual State of the Electric Utility report see rooftop solar as an "opportunity."
If so inclined, utilities should move fast. SolarCity, the leading U.S. residential solar leasing company, has already started offering solar-plus-storage to customers. In Hawaii, solar-plus-storage is now cost-competitive with utility power, according to RMI. 
Elon Musk, the high-flying founder of SolarCity and Tesla Motors, believes "quite strongly that solar power will be the single largest source of electricity generation by the mid-point of the century." 
Utility-scale 
renewables
Though rooftop solar gets all the headlines, utility-scale renewables are poised to play a big role in replacing coal. After all, economies of scale dictate that utility-scale renewables such as solar and wind will be more cost-effective than distributed generation, former FERC nominee Ron Binz told Utility Dive.
Some utilities, like Xcel Energy and Warren Buffett's MidAmerican Energy Holdings, are moving forward on multiple large solar and wind projects. Some utilities are even buying wind power based solely on price. 
Wind, for example, added 12,855 MW in installed capacity in 2012 -- though that number slid way down to 1,032 MW last year due to the expiration of the federal production tax credit. Wind's friendly prices are partly a result of the PTC, and an extension has already been mooted in the Senate.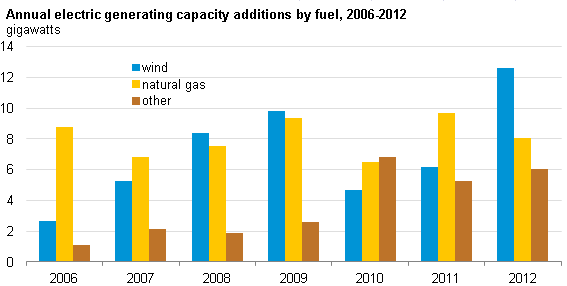 And although rooftop solar is all anyone seems to talk about, utility-scale solar actually outpaced distributed solar in 2013 by adding 2,193 MW in installed capacity. 
Despite the promise of utility-scale renewables, there are significant concerns about their ability to fully replace coal's baseload generation due to their inherent intermittency. However, there are studies that argue a 100%-renewable U.S. power grid is possible. 
Only time will tell.
Think of the grid is a "blank sheet of paper"
Driven by EPA regulations, an abundant domestic supply of natural gas and the rise of renewables, coal's days as the power industry's favorite fuel source may be all but over. But as with anything, nothing is certain: Coal's demise has been bandied about for years, but it's only one Republican president, friendly Supreme Court ruling or what-have-you from reaffirming its place in the U.S. electricity mix.
The EIA still projects coal power to make up 32% of U.S. power generation in 2040. 
Former Duke Energy CEO Jim Rogers advises utilities to see the grid as a blank slate. "By 2050, virtually every power plant in this country, with the exception of our hydro plants—assuming they don't extend the license for nuclear from 60 years to 80 years—are going to be retired and replaced," Rogers said. "It's almost a virtual blank sheet of paper in terms of how do we design the generation next going forward."
As coal's share of the U.S. electricity mix drops, natural gas and renewables—seen as coal's two biggest competitors—are expected to be on the rise: from 3,002 gigawatt-hours (GWh) per day in 2012 to 3,110 GWh per day to 2015, and from 743 to 793 GWh per day, respectively.
U.S. electric utility execs themselves are split on what the dominant electricity fuel of the future will be, according to a Utility Dive report. Notably, 14% of execs still believe coal power will be their utility's primary generation fuel in 20 years.
With their coal fleets being forced into early retirement, some utilities are fighting back.
"Quite frankly, I believe state and federal policymakers are manipulating the supply and demand, and distorting markets for electricity, to further advance the 'war on coal,'" said FirstEnergy CEO Anthony Alexander. "The lesson learned [from this year's Polar Vortex] should be obvious:  We need to maintain a diverse fleet – including real generating assets such as coal, nuclear and natural gas – to ensure reliable, affordable service over the long term."
Nick Akins, CEO of American Electric Power, whose generating portfolio is made up of 66% coal power, says coal is being "taken out of the picture." He still believes coal "has to be part of the puzzle," but sees the future "being natural gas, energy efficiency, smart grid activities and renewables."
Without a doubt, the decline of coal power will herald a new era for utilities. But as it stands, coal won't be replaced easily, entirely, or anytime soon.