At the turn of the millennium, only wide-eyed dreamers in the power sector would have claimed renewable energy would play a major role on the U.S. grid. Wind and solar were simply too expensive and too difficult to integrate.
Fast-forward to 2017, and that dream is becoming a reality, according to a survey of more than 600 utility professionals.
More than 80% of North American utility employees expect renewable energy to increase moderately or significantly in their service areas over the next decade, according to Utility Dive's fourth annual State of the Electric Utility (SEU) survey.
Almost three-quarters (72%) of utility professionals see a moderate or significant increase in utility-scale wind, and more than 80% see moderate or significant growth for utility-scale solar. Distributed generation also fared well, with 83% predicting some degree of growth, albeit from a lower starting point.  
Those results build on trends observed in the last three years of Utility Dive surveys, as well as the input of key industry figures. For utility-scale resources, the economics of renewable energy and natural gas were expected to be key in fueling their growth.
"Wind and natural gas are what will grow," Mike Bryson, PJM Interconnection vice president of operations, told Utility Dive recently about his market's service area in the Mid-Atlantic states. New coal and nuclear generation cannot compete with "the very low price of natural gas and the efficiency of new natural gas plants," as well as the declining price of renewable energy.
The vast majority of survey respondents appear to agree with Bryson. Along with renewables, 62% expect moderate or significant growth in natural gas generation, while 79% expect to see at least moderate coal retirements in the next decade. Nuclear, on the other hand, was expected to stagnate across most of the nation, with declines anticipated in particular regions.
Consumer sentiment and improving economics for renewables are helping to drive utility interest in wind, solar and distributed energy, the survey showed, strengthening trends present in past Utility Dive surveys. But this year, respondents also indicated they were less concerned about the integration of these intermittent resources, reflecting a growing confidence in the operation of the transforming power system.
Anatomy of the power mix
As in past Utility Dive surveys, utility professionals identified large-scale renewables as a key growth area, with the trend spanning nearly every region and covering investor-owned, municipal, and cooperative utilities.
A majority of respondents in every region except one expect utility-scale wind to grow, as utility officials see it as "at grid parity with fossil fuels across much of the nation," the survey notes. This is especially true in the wind-rich Rocky Mountain and Plains states where utility giants Xcel Energy and MidAmerican Energy have made huge wind commitments.
But Southeastern states are the greatest skeptics for the growth of renewable energy, particularly wind. More than half of the survey respondents (58%) in Southern states did not expect wind growth, which could reflect  "a low wind resource in the region as well as the absence of aggressive renewable energy goals," the survey reports.
That could yet change with the development of new wind energy technologies. Advanced wind turbine technologies are likely to be available by 2025, which could increase the output of turbines 300%, according to a National Renewable Energy Laboratory (NREL) report. That could make wind competitive on price with natural gas generation even in the Southeast, though flexible gas plants or other resources would still be necessary to integrate the capacity.
While wind energy is the more plentiful resource today, utility professionals indicated stronger confidence in the growth of utility-scale solar, with nearly 40% of respondents anticipating significant growth.
The extension of the wind production tax credit and solar investment tax credit at the end of 2015 proved a boon to both wind and solar projects, but over the last decade, many utilities were more keen to add wind capacity, as it typically remained cheaper on a per-kWh basis.
Now, as the PTC incentive declines out to 2020, solar energy is also reaching historic price points, prompting a new wave of builds.
The Texas market provides a good example. Already the nation's wind leader with over 18 GW of nameplate capacity, a report from the state grid operator last year estimated the addition of between 14.5 GW and 27 GW of solar out to 2031 — all without a state RPS.  
Utility confidence in the growth of large-scale solar was nearly matched by their outlook for distributed generation. All told, 83% indicated they expect some level of growth in DG over the next 10 years, a higher overall number than large-scale solar, though more respondents indicated utility-scale solar growth will be "significant."
That rapid growth of renewable generation of all types appears to be spurring investments in other grid technologies that can ease its integration, the survey found. In addition to strong confidence in the continued growth of natural gas, nearly 80% expect moderate or significant growth in distributed and grid-scale storage, and 81% expect growth in smart inverters and other grid communication technologies that can ease DER integration.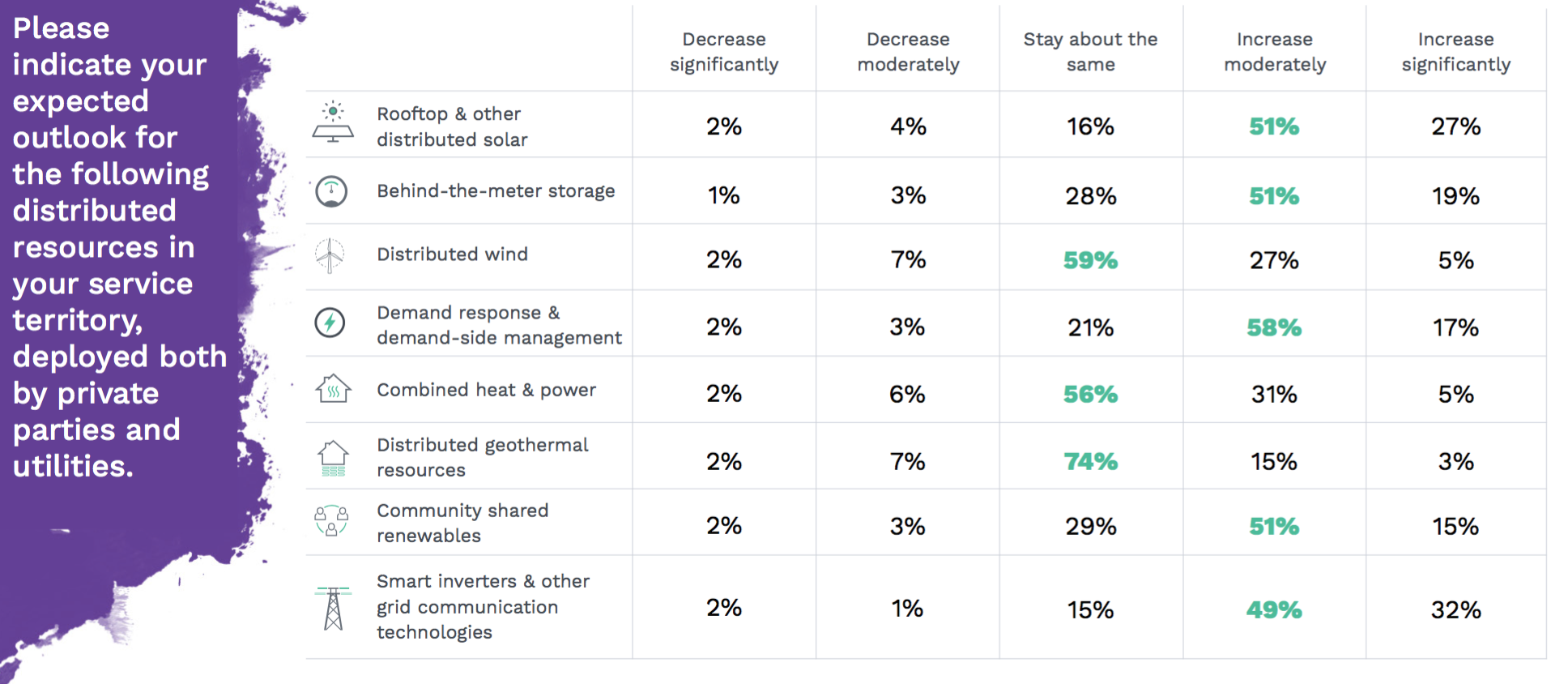 Those anticipated investments may help to explain why, even as power markets are roiled by the price impacts of cheap gas and renewables, utilities appear more confident than ever before about integrating intermittent generation and maintaining reliability.  
The new power mix is getting easier
Last year, 32% of utility officials reported concerns about integrating renewable energy and DERs, making it the top concern associated with the changing power mix.
This year, that percentage was cut in half, with only 16% of respondents indicating integration is the most pressing problem. Instead, the election of Donald Trump appeared to have an impact on their fuel mix outlooks, with 35% of respondents indicating regulatory and market uncertainty are now the most pressing concern.
Relatively few respondents indicated concerns about other typical issues associated with renewable energy growth, such as transmission constraints, stranded assets, or having enough flexible generation to meet demand.
A recent study from NREL reflects this shift, showing how higher levels of renewable energy will not disrupt electricity delivery. It found the Eastern Interconnection (EI), the world's biggest power system, can reliably add more than ten times the renewables used today.
That would leave the EI with only about 30% of its capacity from renewable power, however, with natural gas and other resources remaining on the system. That situation reflects a current reality in the power system — that while renewables are slated to grow, they still need flexible gas generation to even out the peaks and troughs of their generation.
Pairing batteries with renewable energy facilities offers a potential alternative, but the price point for such facilities remains too high to compete with new natural gas combined cycle plants. An innovative proposal out of Arizona could help change that, however.
Floated last year as a fix to the state RPS, the Arizona Clean Peak Standard would mandate that a certain amount of renewable generation be delivered during peak demand hours — likely necessitating the addition of storage.
In that case, the renewables-plus-storage would not be competing directly with new gas plants, but instead face off against existing peaking resources, which tend to be less-efficient, higher-cost plants used to meet peak demand. According to analysis from the state consumer advocate, solar-plus-storage facilities could undercut those existing fossil resources, allowing the sector to get a foot in the door and potentially precipitate further cost declines.
"The [latest models of] natural gas combustion turbines that would be purchased to provide capacity have a levelized cost of energy of $0.194/kWh and run 20% of the year, according to the 2014 Tucson Electric Power IRP," Lon Huber, a consultant for the Arizona consumer advocate, told Utility Dive. A recent PPA for a Kauai Island Utility Cooperative solar-plus-storage project was $0.145/kWh, he pointed out, showing that similar resources on the mainland could compete with gas peakers.
That proposal is still under debate in Arizona, but it could find new legs to the west. Last month, California lawmakers introduced two bills for their own Clean Peak Standard, looking to mitigate the impacts of solar overgeneration at midday.
Whether or not those proposals end up as policy, utilities clearly anticipate growth in the technologies they target. And more than ever before, that's down to their consumers.
The customer is always right
Utility professionals were split on the best reasons to invest in renewables and DERs, but most of their choices were linked to burgeoning consumer demand for clean energy.
Customer sentiment, sustainability and RPS compliance rank as the top three factors related to favorable economics to DERs and renewables.
It is no surprise customer sentiment ranked first. The economic benefits of meeting customer clean energy demand are well-known in the sector, as utilities increasingly procure renewables and devise new tariffs to satisfy their biggest customers' sustainability targets.
At the end of 2016, 71 Fortune 100 companies had such sustainability-related targets, according to an Advanced Energy Economy report.
About 8 GW of renewables on the grid are due to corporate customer demand, according to Rocky Mountain Institute. Even where there are fewer strong RPS standards, consumers "clamor for clean energy," a survey from the think tank notes.
Sentiment toward consumer attitudes was particularly strong among electric co-op respondents, 38% of whom chose the option. Sustainability was the first choice of respondents from IOUs (18%) and munis (23%), which are more likely to have large commercial customers with sustainability goals, as well as for regions such as New England, Mid-Atlantic states and the West Coast "where environmentalism is prominent," the survey notes.
Respondents from the West Coast and New England, where states have strong renewable energy mandates, chose RPS compliance as the most important driver for renewables acquisition.
Moving forward, it is likely utility sentiment toward clean energy will strengthen. Survey respondents indicated changing market and regulatory conditions are the most pressing challenge associated with their changing power mixes, and renewable energy PPAs offer greater certainty.    
"Besides satisfying consumer sentiment for clean energy, these resources offer predictable purchase prices and are valuable hedges against fluctuations in natural gas prices," the survey notes.
Consumer sentiment will likely continue to push utilities as well. This month, Omaha Public Power District in Nebraska devised a new renewable energy tariff to lure tech companies to its service area, and Puget Sound Energy rolled out a novel green tariff just last week.
"Renewable energy used to be more like window dressing to many utilities — resources they built to satisfy mandates, not meet significant system needs," the survey notes. "But over the past decade, as the cost of wind and solar have dropped, utilities have started to see them as opportunities, rather than obligations."